Thursday, September 19, 2013
SU's Blackwell Library Commemorates Banned Books Week September 22-28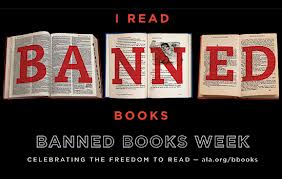 SALISBURY, MD---What do Harry Potter, Huckleberry Finn and Winnie the Pooh have in common? They all have been banned from school and public libraries in the United States.

Salisbury University's Blackwell Library pays tribute to these classic characters and their literary brethren during Banned Books Week, September 22-28. That week, visitors to the library's website, www.salisbury.edu/library, may view a video of SU administrators and others from the campus reading snippets from their favorite banned books as part of an American Library Association initiative. The library also will feature a banned books display.

"Students are always surprised," said project coordinator Susan Brazer, research/instructional and science librarian. "They aren't aware that this is still happening, or they think that it is happening in another country or that it happened a long time ago."

Libraries and school systems ban books for a variety of reasons. Some, for example, find the Winnie the Pooh series offensive because its depiction of talking animals conflicts with the teaching of some religions. Others disapprove of the wizardry and witchcraft that serves as the basis of the Harry Potter series.

Mark Twain's The Adventures of Huckleberry Finn contains language that some find offensive, while others believe Madeleine L'Engle's A Wrinkle in Time is either too Christian or not Christian enough, depending on the audience. In each instance, these books were banned from certain libraries after an individual filed a complaint. Usually, final decisions on banned books are left up to library boards or directors, Brazer said.

During Banned Books Week, SU students visiting Blackwell Library are asked to fill out a form explaining what their favorite banned books are and why.

"This creates an awareness among our users and hopefully encourages them to keep an open mind," said Mou Chakraborty, the library's director of public services.

For more information call 410-543-6030 or visit the SU website at www.salisbury.edu.