Friday, November 30, 2012
SU's Becker Observes Ukraine Elections With OSCE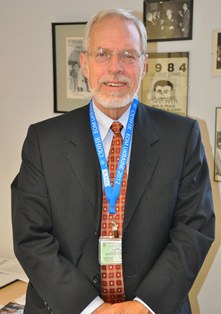 SALISBURY, MD---As presidential candidates Barack Obama and Mitt Romney heated up their campaigns in late October, Todd Becker kept a close watch over the election.
Only it wasn't the one happening in the United States.
Through the Organization for Security and Cooperation in Europe (OSCE), Becker, faculty in Salisbury University's Conflict Analysis and Dispute Resolution, Political Science and Sociology departments, was one of some 600 volunteers from the 57 OSCE member states tasked with observing parliamentary elections in Ukraine.
"You don't make money out of this, but that's not why you go," said Becker, who also has observed elections in Germany. "It's one of the best forms of conflict resolution in that you can ward off conflict before it happens."
The observations were especially important this time, following controversy surrounding the nation's 2010 presidential election, Becker said. The Supreme Administrative Court of Ukraine temporarily suspended the decision in that election prior to the inauguration of winner Viktor Yanukovych.
Then, as now, OSCE-appointed volunteers oversaw and made observations on the election process. Long-term observers traditionally begin the process about a month in advance of the election, watching the lead-up campaign, ballot preparation and delivery. Short-term observers arrive shortly before Election Day and are assigned to cover specific election precincts in teams.
Becker was part of a short-term team, together with a retired Norwegian police supervisor, assigned to the coastal city of Odessa, where he and his colleagues were asked to randomly select 20 polling places to observe throughout the day. The OSCE provided a driver and translator. His transportation and accommodations were funded by the U.S. government, which is an OSCE member.
As in the United States, voters in Ukraine cast direct ballots, selecting the person or political party they want in office. However, Ukraine also uses a proportional representation system, through which the percentage of parliamentary seats made available to each political party is based on the percentage of votes cast for that party.
Upon arriving at their polling places, voters are given two paper ballots — one direct and one proportional — and a stub to sign. The number of signed stubs must match the number of ballots cast, Becker said. Once the votes are counted and verified, the numbers are reported to a district office, which then relays the ballots to a central office.
In all, Becker spent some 26 hours observing the election, including an Election Day stretch that lasted from 5:30 a.m. until about midnight. During that time, he was impressed by much of what he saw. For the first time, for example, entrances to polling places and areas where ballot boxes were kept were monitored by Web cameras for heightened security.
Observation stations also were established for representatives of each political party, as well as non-governmental organizations, to add to the election's transparency. First-time voters were celebrated, each receiving verbal congratulations and a carnation from election workers. Becker also praised those workers' efficiency in moving voters through the registration process. Wait times at the polls, he said, were shorter than he typically has seen during U.S. elections.
He and other OSCE volunteers, however, also saw room for improvement. A preliminary report from the organization noted problems in advance of the election, including limited media access for some candidates and the arrest of two leading opposition candidates. Problems with the tabulations of votes at the central office led to some districts being asked to re-vote.
Becker observed organizational issues at the Odessa district office, which the OSCE's preliminary report noted were prevalent throughout Ukraine. The room was too small for officials to properly complete their tasks, and too many precincts were being reported and tabulated at once, which potentially could have led to confusion, he said.
OSCE volunteers do not intervene when making such observations, but report their findings to the OSCE Election Monitoring Mission in Kiev, which compiles the comments into a final report for presentation to election officials.
"The philosophy is not to point fingers," said Becker. "We have to make a judgment, but not be judgmental. The goal is to help improve the system."
After spending 34 years with the U.S. State Department, working in countries including Germany, Greece, Ukraine, Croatia and Lithuania, he said participating with the OSCE was something he particularly enjoyed.
"It's a real joy to be involved in this," he said. "You never know what's going to happen. It's exciting. It's a dynamic process."
He encourages his students and others interested in civic engagement abroad to apply for the program, as well. Applications are available online at https://www.pae.com/Media/docs/career-react-election-observation2.pdf.
For more information call 410-543-6030 or visit the SU Web site at www.salisbury.edu.