Friday, June 26, 2009
SU's Atkinson Earns AVCA Grant Burger Media Award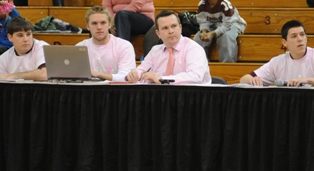 SALISBURY, MD---When Salisbury University alum Sam Atkinson returned to his Alma Mater to accept the position of sports information director in 2006, he pledged to devote his full attention to all 21 of the University's varsity teams.
In the past three years, the American Volleyball Coaches Association has taken notice. The organization recently honored Atkinson with its 2009 Grant Burger Media Award for NCAA Division III women's volleyball coverage in the mid-Atlantic region.
"The balance of his coverage among all sports and the depth of his writing—his ability to understand and appreciate the game and convey that to readers—these communication skills coupled with a quickness in getting stories out, all the while doing so with an easy working manner, have made him a worthy winner of this award," said SU Volleyball Coach Margie Knight, who nominated Atkinson for the honor. "He can truly convey the game to fans, not just input statistics."
The Burger Award lauds those involved in the advancement of volleyball through consistent media coverage, production of volleyball-specific publications and extensive broadcast exposure.
Atkinson worked with media contacts to spread the word during SU volleyball's record-setting 2008 season, which included the team's first national ranking, NCAA tournament win and Capital Athletic Conference (CAC) championship repeat. The team also posted its first 30-win season, earned four All-American honors, earned five All-region selections, placed five members on the All-CAC team and earned the CAC Coach and Player of the Year awards. He also pioneered the delivery of immediate online coverage with a "Live Stats" game viewer that updated the progress of the match after each point was scored.
"Since we went to Live Stats, the parents and fans—who cannot make it to our home matches—have said how much better following the matches is online," Knight said. She also praised the work of sports information's student workers who help staff and cover the volleyball team as well.
For more information call 410-543-6030 or visit the SU Web site at www.salisbury.edu.