Friday, September 11, 2015
SU and United Way Support Community Service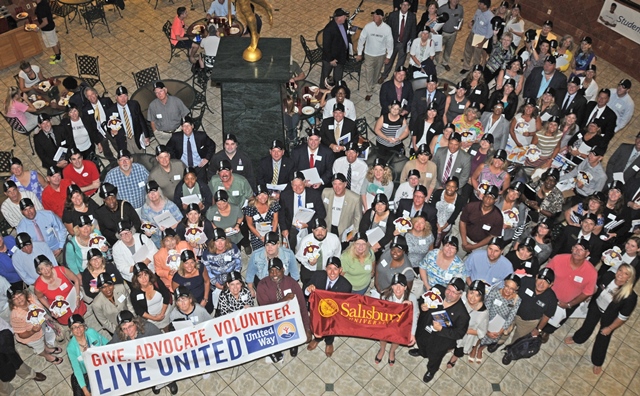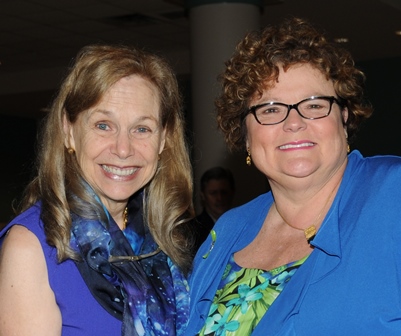 Mitzi Perdue with SU President Janet Dudley-Eshbach
SALISBURY, MD---Greeted by the smooth sounds of the "Squawkapella" student a cappella group and welcomed by President Janet Dudley-Eshbach, more than 250 area business and community leaders gathered at Salisbury University for conversation and inspiring calls to action during the United Way of the Lower Eastern Shore's 11th annual CEO and Coordinator Breakfast.
This was the third year that SU has sponsored the event. Following the Pledge of Allegiance and opening prayer by Aaron Coles, SU Student United Way vice president, the roomful of corporate, political and civic leadership heard from a Perdue, Inc., team hosting the breakfast, many with stories about Arthur and Frank Perdue promoting community service. The speakers included Mitzi Perdue, author of Tough Man, Tender Chicken, a biography of her late husband, Frank; Randy Day, president of Perdue; Chris Oliviero, a vice president; and Jim Perdue, chairman.
In her welcome, Dudley-Eshbach also stressed the importance of service, noting the good works done by SU students, who established the first university student United Way chapter in Maryland.
The United Way of the Lower Eastern Shore was able to touch the lives of over 1 in 3 area residents last year. Its dynamic staff of eight, led by Kathleen Mommé, has overhead costs of only 16.6 percent, less than half the average for charities nationwide. All dollars raised stay locally. The organization has set a goal of $1.8 million this year.