Thursday, October 11, 2012
SU Theatre Presents 'The Sin That Kills' October 18-21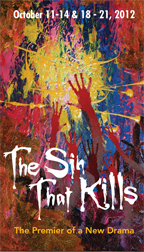 SALISBURY, MD---Before King James VI took the throne in England, he was a key figure in one of the most horrifying events in 16th-century Europe: the 1590 North Berwick witch trials in Edinburgh, Scotland.

Salisbury University's Bobbi Biron Theatre Program explores the dramatic political infighting, religious terrorism and deep personal turmoil involved in the trials with the original production The Sin That Kills. Curtain is 8 p.m. Thursdays-Saturdays, October 11-13 and 18-20, 2 p.m. Sundays, October 14 and 21, in the Black Box Theatre of Fulton Hall. Pre-show talks by Dr. Paul Pfeiffer, playwright and director, are 1 p.m. Sundays in Fulton Hall Room 111.

Pfeiffer based the story on original research conducted using the trials' court records. Pfeiffer has received past accolades for his adaptation of Charles Dickens' A Christmas Carol for the stage and an adaptation of Henry Fielding's Joseph Andrews, which he also directed. His one-man play, Apology for the Life of an Actor, received a special showcase at the Royal Shakespeare Company's "The Other Place," appeared at the Edinburgh Festival Fringe (2001) and earned a Maryland State Arts Council Individual Artist Award.

The Berwick trials marked the first major witchcraft persecution in Scotland and the first time witchcraft was tried as a treasonable offense. Held over two years, they began with a sensational case involving two royal houses when the bride of King James VI experienced horrible storms during a voyage from Denmark to Scotland. The storms were blamed on the North Berwick witches.

Foreshadowing the United States' Salem witch trials of the 1690s, more than 100 suspected witches were arrested and eventually "confessed" under torture. Many were punished by death.

"Although many of the victims were, indeed, guilty of witchcraft in the past, this particular trial moved the practice into the public eye in the negative 'demonic' sphere we have inherited today," said Pfeiffer. "This became the 'Watergate' of its time."

The Sin That Kills is recommended for mature audiences. Admission is $15, $12 for seniors and non-SU students. SU ID holders receive one ticket free. Tickets are available online at www.salisbury.edu/theatreanddance. Tickets also may be purchased through the SU Box Office, Fulton Hall Room 100.

For more information call 410-543-6228 or visit the SU Web site at www.salisbury.edu.