Thursday, March 4, 2010
SU Theatre Presents 'The London Cuckolds' March 4-14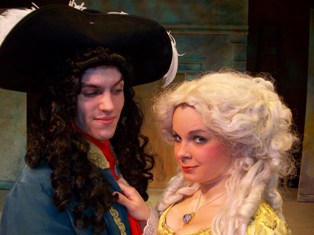 From left: Matt Lewis and Katy Likovich.

SALISBURY, MD---Sex! Scandal! Adultery! Sound like the headlines of a gossip magazine in 2010? Try the London stage in 1681.

That was the year Edward Ravenscroft wrote his scathing play, The London Cuckolds, which was performed in England throughout the next century. Salisbury University's Bobbi Biron Theatre Program brings this raunchy, witty comedy to the Black Box Theatre of Fulton Hall from Thursday-Sunday, March 4-7 and 11-14. Curtain is 8 p.m. Thursday-Saturday, 2 p.m. Sunday. An additional matinee is 2 p.m. Saturday, March 6.

Dr. T. Paul Pfeiffer directs this fast-paced, ribald production about three husbands who each claim to have the most effective method of keeping a wife virtuous. While the first relies on innocence, the second on wit, and the third on piety, three lusty rogues are out to prove them wrong.

"In all my studies of this period, I had never heard of this play until I saw the production at the Royal National Theatre and fell in love with it farcical pace and witty repartee," said Pfeiffer. "The London Cuckolds seemed to me to be the best of the Restoration mixed with the best of what would become French Bedroom farce.

"For our production, I am directing my own adaptation which has enhanced the double-entendres, flirtatious banter and elements of slapstick wit and comic business. If the audience can enjoy this as much as the actors, we will be highly pleased."

The New York Times calls Cuckolds "a feel-good romp." The Pittsburgh City Paper calls it "timeless."

The cast includes Ron Stack as Doodle; Jefferson Boyer as Wiseacres; Tim Dykes as Dashwell; Lauren Danzig as Arabella; Ayla Turner as Engine; Matt Lewis as Ramble; Adam Burns as Townley; Dara Parsons as Eugenia; Carly Ball as Jane; Ryan Campbell as Loveday; Katy Likovich as Peggy; Kelsey Wesenberg as Aunt; Michael Herrell as Roger and Ramble's Man; Jon Pheasant as Tom and Townley's man; Emily Keen as Tater Vendor and Neighbor; Elizabeth Mears and Natalie Costello as Neighbors; Jenifer Manning as Chimney Sweep and Neighbor; Jon Pheasant as Chimney Sweep and Night Watchman; Ian Boyan as Linkboy; and Chad Bloom.

The crew includes stage manager Bill Boyan, assistant stage manager Amanda Hixenbaugh, lighting designer Christa Nimmerrichter and sound technician Lindsay Snyder.

Admission is $15 for adults, $12 for seniors, SU alumni and non-SU students, free with SU ID. Tickets are available in advance online. The London Cuckolds is for mature audiences. For more information call 410-543-6228 or visit the SU Theatre and Dance Department Web site at www.salisbury.edu/theatreanddance.