Wednesday, April 25, 2012
SU Theatre Presents 'Romeo and Juliet' April 19-29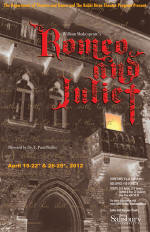 SALISBURY, MD---Salisbury University's Bobbi Biron Theatre Program presents Shakespeare's Romeo and Juliet April 19-22 and 26-29 in the Black Box Theatre of Fulton Hall.

Directed by Dr. T. Paul Pfeiffer, program artistic director, the curtain is 8 p.m. Thursday-Saturday, 2 p.m. Sunday. A special family-friendly matinee is 2 p.m. Saturday, April 21.

"In a recent survey of parents and children, more than 200 said they would attend — more than we can accommodate in a single performance, but a sure measure of the interest and excitement over the prospect of seeing this play done live," said Pfeiffer.

Area high school students also are invited to a special performance 7 p.m. Wednesday, April 26.

The play, set in Renaissance Verona, shows two prominent families at war for reasons never clearly explained. Pfeiffer noted Shakespeare wrote the play in the wake of the Spanish Armada and its attempted invasion of England. London was xenophobic — the enemy was Spain, and that translated into anti-Catholicism. Still, there were many closeted English Catholics and the idea of two households at war with one another over religious differences would have resonated with an Elizabethan audience.

Throughout the course of the play, the religious Capulets confer with Friar Lawrence and go to confession. They are touted as regular attendees of mass. The Montagues, on the other hand, have only one religious encounter, also with the friar.

Pfeiffer and costume designer Leslie Yarmo take the religious theme one step farther and have made the Montagues Jewish.

"In 1290, all Jews were expelled from England, including one family by the name of 'Montagu," said Yarmo. "Jews had been in Italy since before Christ, and it is possible that the English Montagus, attracted to the growing Jewish community in 15th-century Verona had found their way there by the time our story takes place.

"The 1400s was considered the Golden Age of Judaism in Italy, and it would have been difficult to distinguish Jews from Gentiles in Verona until 1450 when dress codes were established to prevent interfaith unions: a yellow head scarf for Jewish women and, similar to the Star of David used in Nazi Germany, a yellow 'O' on men's outer garments – something our Juliet does not see when she meets Romeo in disguise at the party." The Montagues' costumes also are less elaborate than the Capulets'.

Through her research, Yarmo has found an image of the yellow veils imposed on Jewish women. "Depictions of this usage are thought to not exist by scholars in the field," she said. "I'm quite excited by it."

The cast includes Michael Allen Windsor as Romeo, Dayton Young as Juliet, John Ebert as Lord Capulet, Kaila Ingram as Lady Capulet, Eric Scott Russell as Tybalt, Cat Chapman as Nurse, Patrick Drengwitz as Sampson, John Posner as Gregory, Robert J. Ackerman as Peter, Ben Rayne as Lord Montague, Jenifer Manning as Lady Montague, Joe Arnett as Mercutio, Reed DeLisle as Benvolio, Zachary Aaron Eckstein as Abram, Devonte R. Perry as Balthasar, James Carpenter as Friar Lawrence, Adam Clancy Burns as Prince Escalus (and the production's fight captain), Spencer Bath as Count Paris and Michael E. Herrell as the Apothecary. Portraying citizens, watchmen and guests of the Capulets are Harry Early, Linda Bancroft, François Boshart, Emily Frank and Katherine Worley.

Lighting design is by Tom Anderson (also technical producer) and Johnny Pantazis. Set design is by Ginger Angstadt. Rebecca Frazier stage manages, with Michelle Cassel as her assistant. The fight choreographer is Mark Parisi of Milford, DE. Other crew members include Tess Daugherty, Christa Nimmerrichter, Cat Chapman, Bridget Willey, Robert Peterson, Eric Russell, James Carpenter, Corey Nethen, Orrin Webb, Robert Ackerman, Lindsay Sapp, Taylor Brink, Matt Cox, Amanda Hixenbaugh, Sarah Clarke, Molly Graham, Alicia Zahn, Andrew Schnoor, Alexa DeCrispino, Brittney Thomas, Kelly Ross, Raffael Huff, Lauren Rodriguez, Stephen Norcio, Stephanie Barlas, D.J. Giuntini, Victoria Finley, LaVita Beveney, Dana Boyer, Katie Burke, Samantha Marsh, Kelly Chikes, Steven Graves, Julie Wright, Olivia Butler, Matthew Cox, Jennifer Phelps, MaryKathryn Overstreet, Ashley Smith, Elizabeth Krajewski, Helga von Kollmar, Britnee Uncapher, Dayton Young, Elizabeth Cary, Sarah Inak, Parris Travers, Marie Warner and Reed DeLisle.

Admission is $15, $12 for seniors and non-SU students. SU ID holders receive one ticket free. Tickets are available online at www.salisbury.edu/theatreanddance. Tickets also may be purchased through the SU Box Office, Fulton Hall Room 100.

For more information call 410-548-5588 or visit the SU Web site at www.salisbury.edu.