Friday, March 13, 2015
SU Theatre Presents 'Drood' April 9-19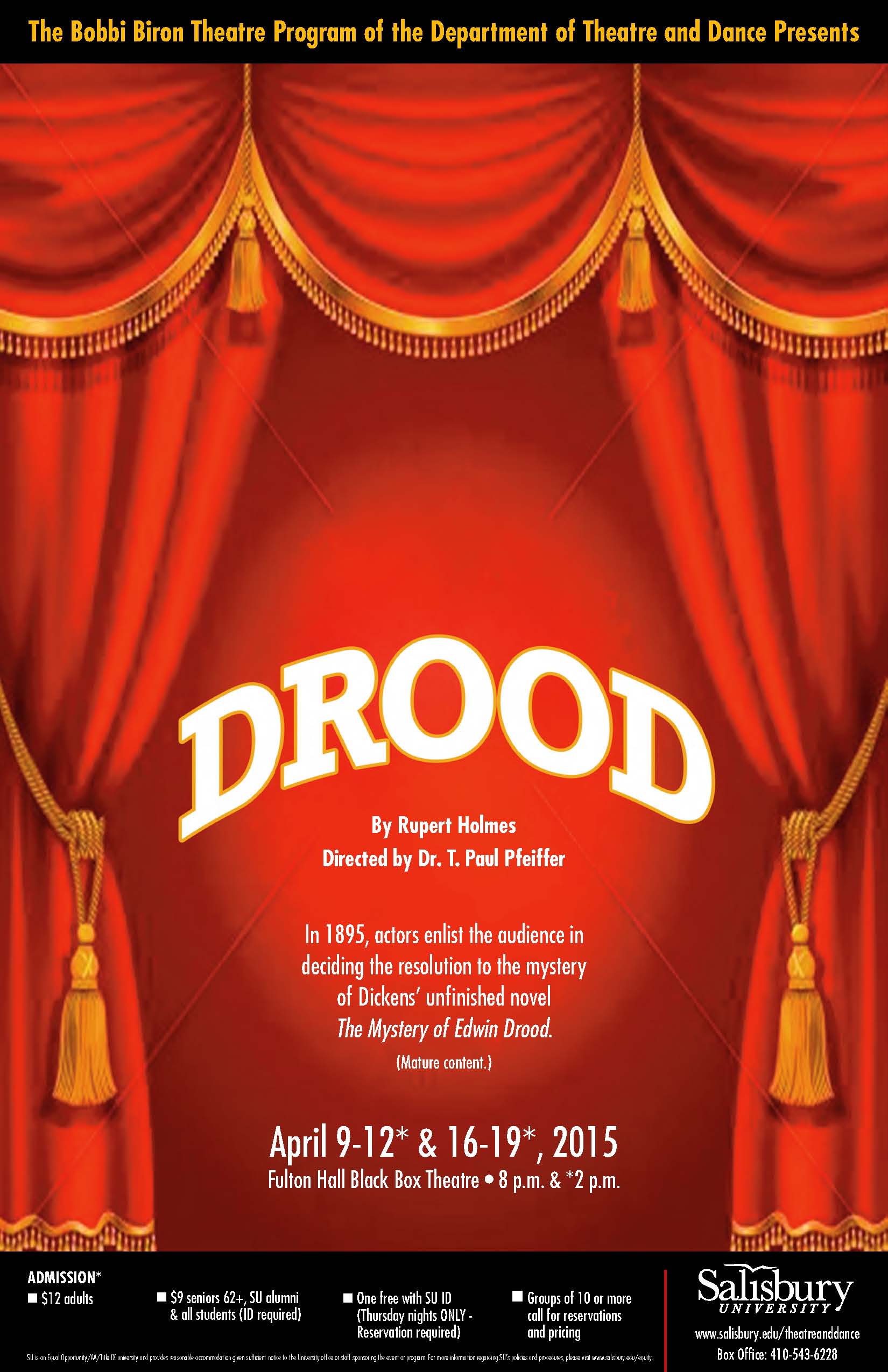 SALISBURY, MD---Whodunnit? Who knows?

Salisbury University's Bobbi Biron Theatre Program invites audience members to help solve a musical murder mystery during its production of Drood Thursday-Sunday, April 9-12 and 16-19.

Directed by Dr. T. Paul Pfeiffer, chair of SU's Theatre and Dance Department, curtain is 8 p.m., 2 p.m. Sundays.

The unique and popular Broadway award winner by Rupert Holmes (best known for his 1979 hit single Escape (The Piña Colada Song)) is based on The Mystery of Edwin Drood, the final novel by Charles Dickens. Because Dickens passed away before finishing the mystery, the killer is selected at the play's end via audience vote. Upon its opening in 1985, Drood was believed to have been the first Broadway production to feature multiple endings.

The winner of five Tony awards, including Best Musical, Drood draws on multiple "collaborations" by authors attempting to complete the novel, as well as three film adaptations. In writing the comedy, Holmes became the first person since the early days of musical theatre to compose the book, music, lyrics and orchestration for a Broadway production single-handedly.

As Drood opens, members of London's Music Hall Royale interact with the audience before making their way to the stage. From there, theatre-goers are introduced to John Jasper, the company's "Jekyll and Hyde" choirmaster and uncle of the play's namesake.

In the second act, Jasper confesses to being responsible for his nephew's Christmas Eve disappearance — but did he really kill Drood? The lone witness comes forward to reveal the real killer (maybe), based on the audience's vote. To give the musical a happy ending, the audience is also asked to decide which two characters among the remaining cast will fall spontaneously in love … before the play ends with a twist!

"Victorian English music hall, like its step-child American vaudeville, was an exciting and highly interactive form of entertainment which begged audience participation," said Pfeiffer. "Like a big jolly party, music hall specialized in comedy acts and musical numbers – saucy jokes and leggy dancers – all in good honest fun. I had the pleasure of attending such a performance in London by a group whose specialty was the recreation of this now-lost art form. I was forever changed – enchanted by the novelty, the liveliness and the high spirits of the evening's entertainments.

"In Drood, Rupert Holmes very cleverly captures all of this as a stellar setting for a poor company's efforts to stage Dickens' unfinished mystery novel. Like the rude mechanicals of Shakespeare's A Midsummer night's Dream, we are won over not by the grandeur of their production, but by the purity and honesty of their best efforts to serve their author well."

The New York Times called Drood a "delectable trifle of a show." The New York Post called it "jolly good fun."

The cast includes Rebekah Anderson, Dan Frana, Kimberly Garcia-Torres, Veahna Gardineer, Dawson Forbes Hill, Michael Mitchel, Leah Naill, Susannah Nixon, Ide Owodiong-Idemeko, Jenny Phelps, John Posner, Jian "Jade" Qiu, Andres Roa, Caitlin Rogers, Kelly Ross, Emily Stanton, Faith Sullivan, John Tully and John Wixted. Dr. William Folger, chair of SU's Department of Music, portrays the Maestro of the Theatre Royale.

Set design is by John Raley, costume design by Leslie Yarmo and lighting design by Tom Anderson. Stage manager is Sam Olsen.

Drood is suggested for mature audiences. Admission is $12, $9 for seniors, students and SU alumni with ID. Tickets are available online at www.salisbury.edu/theatreanddance. Tickets also may be purchased through the SU Box Office, Fulton Hall Room 100. SU ID holders receive one ticket free for Thursday performances with advance reservations.

For more information call 410-543-6228 or visit the SU website at www.salisbury.edu.