Tuesday, October 5, 2010
SU Theatre Presents 'Dark of the Moon' October 8-17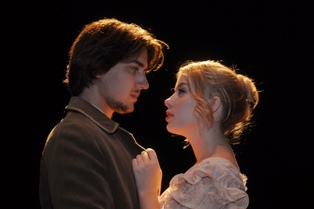 SALISBURY, MD---Salisbury University's Bobbi Biron Theatre Program gets into the Halloween spirit a little early this year, opening its 2010-11 season with William Berney and Howard Richardson's Dark of the Moon.

Directed by Dr. T. Paul Pfeiffer, artistic director of the theatre program, the production is Friday-Sunday, October 8-10, and Thursday-Sunday, October 14-17, in the Black Box Theatre of Fulton Hall. Curtain is 8 p.m., 2 p.m. Sundays.

A romantic and tragic tale of love, magic and the fear of the unknown, the play is set in the Great Smokey Mountains of North Carolina in the days of the earliest settlers. It centers on the ill-fated love of a witch boy for a mountain girl, Barbara Allen.

He bargains with the powerful Conjur Woman to grant him one year of human nature in which to win and keep young Barbara. If she can remain faithful for one year, he will be granted human life to live with her. If she is not faithful, he dies a witch's death.

With its often spirited and sometimes melancholy music, the production focuses on the Scots-Irish heritage of those first European settlers and becomes, "a dark picture of lives led in those mountains and the trials of sustaining some semblance of their former identity," said Pfeiffer. "The play is constructed as a musical, yet the music informs the characters and the culture more than it furthers the plot."

The Column says the play offers "great group and duet scenes with a different twist to the age-old story of two star-crossed lovers." Stage Mage calls it "a dark, troublesome, moving love story."

The cast includes Chris Dooly as John, Samuel Barnes as Conjur Man, Sarah O'Malley as Dark Witch, Mia Cardwell as Light Witch, Aisha Carr as Conjur Woman, Tim Whitehead as Floyd Allen, Carly Ball as Mrs. Alle, Lizzy Mears as Barbara Allen, Matt Lewis as Preacher Haggler, Zachary Eckstein as Hank Jenkins, Geoffrey Garlington as Mr. Jenkins, Kayla Ingram as Mrs. Jenkins, Danielle Sampson as Ella Jenkins, Casey Williams as Miss Metcalf, James Carpenter as Uncle Smelicue, Matt Deitz as Mr. Bergen, James Higgins as Mr. Summey, Elizabeth Weiss as Mrs. Summey, Jen Manning as Edna May Summey and Eric Russell as Marvin Hudgens.

Set design is by Dr. David Shuhy, lighting design by Tom Anderson and costume design by Leslie Yarmo. Bill Boyan stage manages. Amanda Hixenbaugh is assistant stage manager.

Dark of the Moon is recommended for mature audiences. Admission is $15, $12 for seniors and non-SU students. SU ID holders receive one ticket free. Tickets are available online at
www.salisbury.edu/theatreanddance. Tickets may also be purchased through the SU Box Office, Fulton Hall Room 100.

For more information call 410-548-5588 or visit the SU Web site at www.salisbury.edu.