Monday, October 10, 2011
SU Theatre Presents 'Cat on a Hot Tin Roof' October 13-23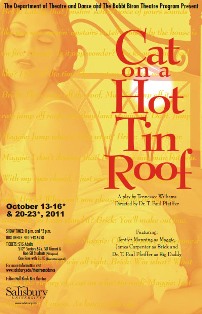 SALISBURY, MD---Salisbury University's 2011-12 theatre and dance season begins with Tennessee Williams' Cat on a Hot Tin Roof Thursday-Sunday, October 13-16 and 20-23.

Directed by Dr. T. Paul Pfeiffer, artistic director of the theatre program, curtain is 8 p.m., 2 p.m. Sundays, in the Black Box Theatre of Fulton Hall. This show replaces the originally scheduled production of Ronald Harwood's The Dresser.

The popular play focuses on one evening at a plantation house in Mississippi, where a family celebrates the 65th birthday of its patriarch, Big Daddy. Greed, envy, sins of the past and desperate hopes for the future spar with one another as the knowledge that Big Daddy is slowly dying makes the rounds.

Maggie, wife of Big Daddy's favored younger son, Brick, is determined to secure their place in the inheritance by falsely announcing that she is pregnant. Brick refuses to cooperate in her plans, preferring a constant haze of alcohol as he mourns the loss of his best friend, Skipper. Maggie and Brick battle their past errors as Gooper, Brick's older brother, and Mae, his venomous wife, strive to tumble Brick from his place of honor in his father's heart and put Maggie in her place.

Set against the intrusive and corrosive atmosphere of a family on the brink of huge changes in fortune, the stakes are high.

The New York Times calls Cat "a gripping and intensely moving play." The New York Post hails it as "a play of tremendous dramatic impact … [with] enormous theatrical power."

The cast includes Jennifer Manning as Maggie, James Carpenter as Brick, Kaila Ingram as Mae, Cat Chapman as Big Mama, Pfeiffer as Big Daddy, Eric Scott Russell as Gooper, Robert Ackerman as Dr. Baugh and James Higgins as the Rev. Tooker.

Set design is by Dr. David Shuhy, costume design by Leslie Yarmo. Lighting design is by Thomas Anderson.

Sponsored by the Bobbi Biron Theatre Program, Cat on a Hot Tin Roof is recommended for mature audiences. Admission is $15, $12 for seniors and non-SU students. SU ID holders receive one ticket free. Tickets are available online at www.salisbury.edu/theatreanddance. Tickets also may be purchased through the SU Box Office, Fulton Hall Room 100.

For more information call 410-548-5588 or visit the SU Web site at www.salisbury.edu.