Monday, November 16, 2009
SU Theatre Presents 'A Christmas Carol' November 20-December 6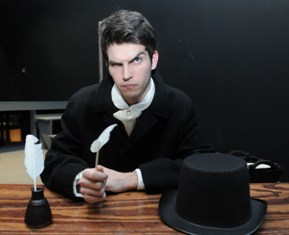 SALISBURY, MD---Charles Dickens' beloved novel A Christmas Carol has been adapted on screen many times, from the classic 1951 Alastair Sim film to Disney's recent animated version starring Jim Carey.

For some, however, there's nothing like seeing it live.

Salisbury University's Bobbi Biron Theatre Program presents A Christmas Carol Friday-Sunday, November 20-22, and Thursday-Sunday, December 3-6, in the Black Box Theatre of Fulton Hall. Curtain is 8 p.m. Thursday-Friday, 2 and 8 p.m. Saturday, 2 p.m. only Sunday.

This production debuts a new adaptation by Dr. T. Paul Pfeiffer, artistic director of SU's theatre program.

"The story is so familiar, and there are many adaptations" Pfeiffer said. "I felt these lacked the theatricality and style our audiences so enjoy. I wanted to retain the sense of immediate storytelling in a very presentational style. To this end, the characters all narrate the story as it moves quickly from scene to scene."

The entire story is told by a cast of 18 actors in under 75 minutes. The new adaptation places the bitter old Scrooge, whose ghostly visitors show him his lonely past, his empty present and his certain lonely demise, in stark contrast to the jolly and loving Cratchit family.

"Witnessing the hardships of the Cratchit family and their cheerful resolve to get through tough times with love ultimately melts Scrooge's hard exterior and he reforms–determined to live a new and fruitful life among his fellow men," Pfeiffer added. "This, we all felt, was a very valuable and timely lesson for us all–in any season."

The production marks the theatrical directorial debut of Dr. Victoria Hutchinson, Department of Theatre and Dance chair. Previously, she was artistic director of the SU Dance Company for 17 years.

The cast includes Matt Lewis as Scrooge, Jimmy Santos as Bob Cratchitt, Kelsey Wesenberg as the Ghost of Christmas Past, Kurt Auer as the Ghosts of Christmases Present and Future, and Timothy Dykes as the Ghost of Jacob Marley, supported by Carly Ball, Charles Bloom, Crista Campbell, Ryan Campbell, Aisha Carr, Natalie Costello, Michael Herrell, Shanice Jones, Emily Keen, Jenifer Manning, Ayla Turner and Corinne Spence.

The crew includes set designer Tom Anderson, lighting designer David Shuhy, costume designer Donna Hudson, stage manager Billy Boyan, assistant stage managers Tess Daugherty and Amanda Hixenbaugh, and property master Lauren Danzing. Other crew members are Lindsay Snyder, Christa Nimmerrichter, Julianna Schaeffer, Matt Payne, Alex Haglich, Maura Duffy, Michelle Gero, Jack Schwartz, Ashley Adams and Katy Donohue.

Admission is $15, $12 for seniors, students with photo ID and SU alumni with Benefit Card. Children under 12 and SU ID holders receive one ticket free. Advance tickets may be purchased online at www.salisbury.edu/theatreanddance.

For more information call 410-543-6228 or visit the SU Web site at www.salisbury.edu.