Friday, November 9, 2007
SU Team Places Second in 2007 Goodman Accounting Challenge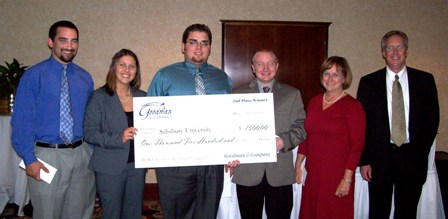 From left: SU Goodman Accounting Challenge team members Vincent Grey, Ashley Stern, Andrew Kehl and Christopher Harper; Dr. Patricia Derrick, advisor; and Goodman partner Hugh Barlow.

SALISBURY, MD---Students in Salisbury University's Franklin P. Perdue School of Business recently received high honors during the annual Goodman Accounting Challenge.

SU placed second out of 24 teams in the competition, Dr. Pat Derrick, accounting faculty in the Franklin P. Perdue School of Business, led the team. Team members included Vincent Grey of Severn, MD; Christopher Harper of Cambridge, MD; Andrew Kehl of Bel Air, MD; and Ashley Stern of Salisbury.

Hosted by Goodman & Co., one of the nation's largest accounting and consulting firms, the challenge is an interactive and educational competition created to promote the integrity of the accounting profession and recognize outstanding students. The contest is open to those in Maryland, Virginia and Washington, D.C.

During the contest, student teams take a pre-qualifying test at their home school. The four highest-scoring teams compete in the final challenge, a six-hour exam hosted by Goodman in Norfolk, VA. The top prize is $2,500 for the winning team's accounting department plus $1,500 for each student on the team. SU students on the second-place team earned $1,000 each. Salisbury has hosted a team in the finals each year it has participated.

For more information call 410-543-6030 or visit the SU Web site at www.salisbury.edu.