Wednesday, October 5, 2016
SU Team Again Wins Enactus Ethics Competition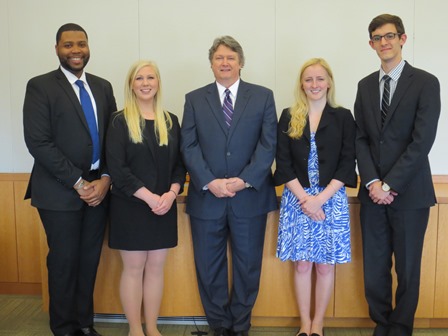 SALISBURY, MD---For the third time in five years, Salisbury University's Franklin P. Perdue School of Business Ethics Team took first place in the annual Enactus Ethics Competition, held at Mount St. Mary's University.

Enactus promotes student education in business and is sponsored by such companies as Walmart, Unilever, BB&T and other Fortune 500 companies. The competition involved colleges and universities from around the region, including the U.S. Naval Academy, Towson University, Messiah College and Mount St. Mary's, as well as SU.

The case presented to students at the competition involved Apple, Inc., and how to address allegations that certain suppliers, such as Foxconn, were negligent in their treatment of employees.

The SU team proposed that in order for Apple to ensure good ethical practices, the company needed to make bold changes through R.E.M. or Reconfiguring, Enforcing and Monitoring. The team suggested that Apple reconfigure its supply chain structure, enforce the new changes and policies, and monitor the progress of the overseas operations within Foxconn. Not only did the team thoroughly research and discuss the potential costs of this strategy, but members also identified possible threats as well as other options.

The final standings were very close — only two points separated third-place Towson (63 points) from first-place Salisbury (65 points). The Naval Academy placed second, with 64 points.

The SU team included senior management major Alexandra Chandler of Montgomery County, MD; senior marketing major Edward Ibe of Silver Spring, MD; junior marketing and communication arts major Nicole Kline of Rockville, MD; and junior finance major Samuel Russell of Ellicott City, MD. Faculty advisor was Dr. Mo Brown of the Management and Marketing Department.

For more information call 410-543-6030 or visit the SU website at www.salisbury.edu.
------------
Pictured, from left: Edward Ibe, Alexandra Chandler, Dr. Mo Brown, Nicole Kline and Samuel Russell.