Thursday, April 19, 2012
SU Student's Work in Haiti Sparks Delegation Visit with First Lady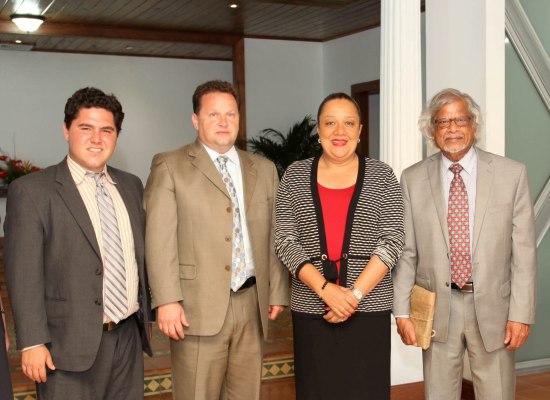 SALISBURY, MD---A Salisbury University delegation recently embarked on a service mission to Haiti that included a meeting with First Lady Sophia Martelly.
Participating (from left) were SU student William Merlo, who has been working in Haiti for the past year, Dr. Brian Polkinghorn, executive director of SU's Center for Conflict Resolution, and Dr. Arun Gandhi, SU Scholar-in-Residence.
During the five-day trip, the group held a workshop at the United Nations' mission and visited two non-governmental organizations (NGOs) that specialize in disaster mitigation, community development and conflict prevention: J/P HRO, spearheaded by actor, director and philanthropist Sean Penn, and Viva Rio. The SU group hoped to foster positive dialogue among the NGOs, their respective communities and government officials.
The SU visit followed a personal invitation from a representative of the National Palace in Port-au-Prince. The service visit was sponsored by Constructora OAS LTDA, a Brazilian construction company that Merlo has been working for in Haiti since last August.
A native of Silver Spring, MD, Merlo is double majoring in conflict analysis and dispute resolution and international studies with a concentration in Latin America. He also is a field researcher for SU's Center. He first traveled to Haiti during spring break of March 2011 to work as a logistics coordinator for President Michel Martelly's election campaign.
He was so inspired by the country that he decided to return at the end of the semester. He wrote a 20-page proposal for a redevelopment project and also began working for an NGO managing a camp for Hatians displaced by the 2010 earthquake.
"It was my job to sort through questionnaires and data and figure out where to relocate people based on the neighborhoods where they used to live," he said. "The infrastructure is very minimal. There is no running water. Electricity cuts out without warning."
Merlo then became the communications and public relations manager for OAS in Haiti. He appreciates the company's philosophy of caring for communities and not just profits.

"If a company can be morally and ethically outstanding it benefits the community and also leads to more projects; it's a cyclical process," he said.

While with OAS, Merlo held several mediation sessions, including one with a homeowner disgruntled about roadblocks, and led a community meeting to address concerns. He also took a Haitian Creole class. He plans to return to SU in August to finish his degrees by May 2013.

Merlo credits Polkinghorn as being instrumental to his success: "He did an amazing job helping me take what I've learned in the classroom and practically apply it to best help the people of Haiti." He especially uses what he learned at SU about peacemaking through diplomacy, NGOs, professionalism, research, activism and funding.

Travel has always been part of Merlo's life. The son of U.S. diplomats, he spent time growing up in Brazil, Cuba and the Dominican Republic. His father's family is originally from Argentina.
For Merlo, however, there is no place like Haiti.

"Haiti is one of the most beautiful countries I've even been to," he said. "The people are full of potential and extremely smart; they are entrepreneurs and many have their own small business to try to survive. They are warm and caring, and just want the best for their kids, as any American does. It is the people who have kept me here."

For more information call 410-543-6030 or visit the SU Web site at www.salisbury.edu.