Wednesday, July 2, 2014
SU Students 'Make Stuff Wilder' at PBS NOVA IdeaLab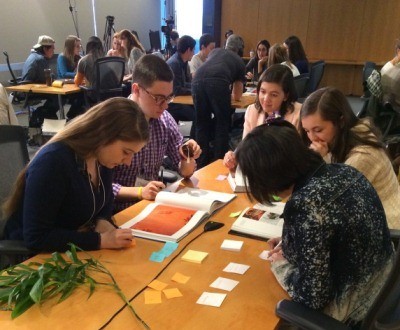 SALISBURY, MD---Things got "wild" for Salisbury University students May Palace and Charlie Rusk at a PBS NOVA IdeaLab in Boston.
The four-day workshop explored the emerging field of biomimicry, which uses nature to inspire inventions to solve complex human problems. It was a spinoff of Making Stuff Wilder, one episode in a four-part PBS NOVA special on scientific innovations.
Palace, a physics major from Kent Island, MD, and Rusk, a computer science major from Catonsville, MD, were among only 20 students selected to participate. Most others, Palace said, were from nearby Massachusetts Institute of Technology (MIT).
"I was excited that they picked two students from SU," she added. Rusk said, "It shows the caliber of our academic programs in STEM fields."
Sponsored by PBS NOVA and the National Collegiate Inventors and Innovators Alliance, events started with a panel presentation on the process of innovation. Then the students got to work.
"We came up with about 500 ideas of things we could make based on nature in less than 10 minutes," Palace said. These concepts were then narrowed down to only a handful and the students split into groups to develop them into business models.
Palace's group worked with on a genetically modified dehydrated bacteria that expands to fill space when wetted and could be used to address issues like concrete cracks and basement leaks. Rusk's team explored applying the swarming technique of birds and bees to GPS technology in cars to intelligently re-route traffic to minimize congestion. Other projects included a camera lens cover based on the cleaning power of tiny hairs on insect eyes.

Both SU students were chosen to individually present their groups' plans.

"They knew as science majors we could come up with ideas, but they wanted us to learn how to innovate those ideas to fit a business model and to actually make it applicable to the real world," Palace said.

"It was an intensive experience," Rusk added. "Not only were we challenged to develop creative solutions to problems, but we also learned how to take those ideas to the next level by considering target markets, product design, business development, and more."

Held in Boston at the studios of WGBH, a public media "powerhouse" and PBS' largest producer of Web and TV content, the entire workshop was filmed. The content will be made available as videos for high school students to encourage interest in science.

PBS' NOVA is the highest-rated science series on television. The four-part Making More Stuff special, which aired in October-November 2013, examined the next wave of technological innovations with scientists and engineers who are making things "colder, faster, safer and wilder."

For more information, call 410-543-6030 or visit the SU website at www.salisbury.edu.