Thursday, October 4, 2012
SU Students Discuss Interning at National Political Conventions Tuesday, October 9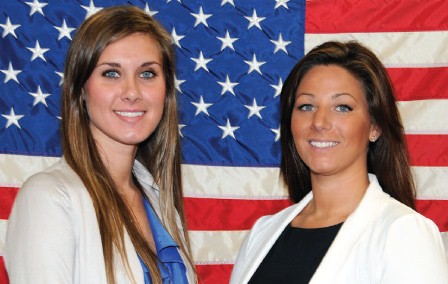 Chelsea Brown and Jessica Cahill

SALISBURY, MD---Senior communication arts majors Jessica Cahill and Chelsea Brown this year became the first Salisbury University students to intern at the Republican and Democratic national conventions.

They discuss their experiences 7 p.m. Tuesday, October 9, in Teacher Education and Technology Center Room 153.

Cahill, of Severna Park, MD, was assigned to CNN during the Republican National Convention. Through the course of her duties, she ran lines with reporter Anderson Cooper and interacted with other on-air personalities, including Piers Morgan and Wolf Blitzer.

Brown, of Coeur D'Alene, ID, worked with the U.S. State Department Foreign Press Center. While fulfilling her duties, she got to live a dream, seeing her idol, former President Bill Clinton, in person. She also rubbed elbows with high-profile political supporters including actor Jeff Bridges, MSNBC's Chris Matthews and U.S. Representative Debbie Wasserman Schultz (Florida).

Cahill and Brown won the opportunity through an essay contest hosted by SU's Institute for Public Affairs and Civic Engagement. The Washington Center for Internships and Academic Seminars facilitated the internship placements.

Though this was their first time at political events the size of the conventions, both had previous experience working with government officials. Cahill had already interned with the Republican National Committee and with U.S. Representative Michele Bachmann (MN). Brown works as a civil servant for the U.S. Protective Services Division at NASA's Wallops Flight Facility.

Both were happy to have positions that allowed them to attend many of the convention festivities. Some interns, such as those assigned to greet attendees as they entered the buildings, barely made it inside the convention halls, they said.

Cahill got to see Governor Mitt Romney's presidential nomination acceptance speech, as well as actor Clint Eastwood's infamous "empty chair" speech. Brown had a ticket to hear President Barack Obama's nomination acceptance speech, but it was rescinded when events were moved indoors and downsized due to inclement weather.

She did, however, meet and interview many individuals serving in the president's administration, including former undersecretary of defense for policy Michele Flournoy, associate policy director for national security Marie Harf and Colin Kahl. All were advisors for the Obama for America campaign.

"I was exposed each day to so many other interesting intellectuals highlighting the Democratic Party platforms and voter issues that are important in the upcoming election," she said, adding that some, including Harf, offered personal insights she hopes will help her in the future.

"She is in a position in her career I would one day want to have, so I asked her for advice on how she got there," said Brown. "She said my job as a civil servant for the federal government with Protective Services, my education and my internship with the State Department were impressive resume builders. She said to have an issue that is important to you and learn everything there is to learn about that topic, then people will rely on your intelligence.

"With this personal advice and contacts made with the State Department, I now know what directions I need to take to get where I want with my career in national security."

Brown and Cahill also both enjoyed plenty of networking opportunities at the receptions associated with the conventions. Each student called her own experiences "transformational."

Sponsored by PACE, admission to their presentation is free and the public is invited. For more information call 410-677-4045 or visit the SU Web site at www.salisbury.edu.