Wednesday, November 29, 2017
SU Students Attend National Conference on Citizenship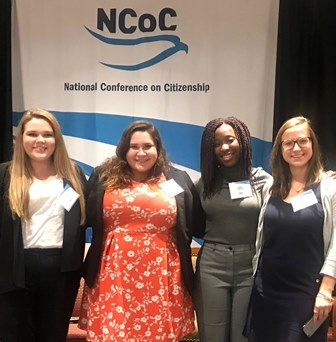 SALISBURY, MD---Four Salisbury University students recently attended the National Conference on Citizenship's annual conference in Washington, D.C.
They included junior social work major Anne Chambers of Bethesda, MD; senior political science major Kendall Krach of Cockeysville, MD; senior English and political science major Danielle Walker of Owings Mills, MD; and junior political science and communication arts major Nadia Williams of Germantown, MD. Each received a scholarship to cover the cost of attendance.
The SU students joined hundreds of civic engagement leaders, practitioners, community members and others to examine the challenges currently facing the nation and local communities. These included declines in civic education, the opioid addiction epidemic and an "opportunity gap" that has created a struggle for some youth.
Participants also had the opportunity to network and attend awards presentations to some of the nation's most established civic leaders, including Be the Change, Inc. President Robert Gordon III and Joseph H. Kanter Citizen of the Year Robert Putnam of Harvard University.
SU's representatives have a history of involvement in the University's Institute for Public Affairs and Civic Engagement (PACE). Chambers is a team leader and current member of ShoreCorps, an AmeriCorps program at SU. Krach has completed a ShoreCorps service year with the Salisbury Youth Civics Council.
Walker also is a current ShoreCorps member, serving with the Youth Civics Council and has completed PACE's Presidential Citizen Scholars (PCS) Program. Williams is a member of the current PCS Program. All four also are active in student clubs and organizations on campus.
"These students bring an interest and experience to discussions of civic life and democratic citizenship," said Dr. Alexander Pope, PACE co-director. "Following this conference, they will share ideas for how PACE can enhance citizenship education programming on campus and in the greater Salisbury community."
For more information call 410-543-6030 or visit the SU website at www.salisbury.edu.