Wednesday, October 21, 2015
SU Students Attend MASMI Presentations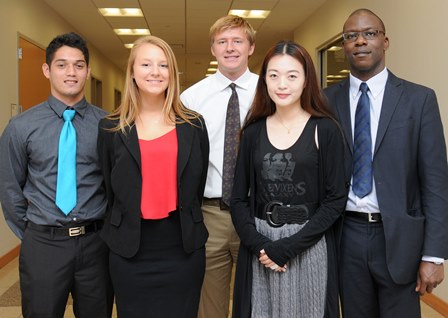 From left: Dale Echols, Melissa Yokemick, Aaron Wall, Yiwen Xie and Adebola Daramola were among SU students attending the Mid-Atlantic Sales and Marketing Institute presentations.
SALISBURY, MD---Students enrolled in Salisbury University's new Mid-Atlantic Sales and Marketing Institute (MASMI) are interested in pursuing careers in the field.

Recently, representatives from the institute's sponsors shared with them what they can expect in the world of sales — and what employers are looking for in sales and marketing experts.

"They're not here to meet me," Dr. Amit Poddar, chair of the Management and Marketing Department, told a room of about 50 students from SU's Franklin P. Perdue School of Business during the presentation. "They're here to meet you. When the time comes to look for a job, you won't be talking to strangers. You will be talking to people you know."

SU alumnus Geoff Turner, president and CEO of Choptank Transport, a Preston, MD-based logistics company and the MASMI's founding sponsor, offered advice on what it takes to get into the field — and why many do.

"Sales is tough," he said. "You have to have a thick skin, and you have to get used to hearing 'No.' But I wouldn't trade it for the world. Your earning potential is unlimited."

Turner and his colleagues saw the need for a sales training program at SU. They hope to reap the benefits by hiring the highly trained graduates the institute is poised to turn out.

"Even if you're a junior or a sophomore, we can start talking now," said Pam Hutchinson, Choptank's human resources director.

Frank Hamilton, sales manager for WBOC-TV, commended the students for their commitment to sales at such a young age.

"In sales, it's easy to make good money, especially here on the Eastern Shore, but the only way anyone ever gets into sales is by accident," he said, noting that he and many of his peers decided to try sales only after being laid off from other jobs or recovering from their own failed business ventures.

He also stressed the advantages of working for locally owned businesses, including a streamlined decision-making process and room for creativity — something he especially looks for in new hires.

"I want people to come in with their own thoughts and ideas," he said. "I don't want anybody who wants a job. I want people who want careers."

Zach Ingram and Christopher Riley spoke on behalf of Staples Advantage, the popular office supply chain's B2B division, which offers its own three-month sales training program. Through that program, new employees learn many of the skills the MASMI strives to instill in its students, including lead generation and cold-calling.

Riley, who said he had been hooked on sales since he made his first successful pitch (to his parents, as a teenager, to let him borrow their car), encouraged the students to enter the field not for the money, but because they enjoy it.

"If you work hard every day at a job you don't like, that's called stress," he said. "If you go to work every day at a job you love, that's called passion."

Kathy Kiernan, senior vice president of Salisbury-based APPI Energy, noted that more than one-third of the company's employees were SU alumni and encouraged MASMI students to apply.

"You don't have to know anything about energy, she said. "We'll teach you that. We're looking for people with the right attitude. At the end of the day, every day, we want you to feel … not exhausted, but a little out of breath. That means you're working hard."

Dean Goodwin, marketing manager at RPS Technology & Cyber, a national cyber liability insurance specialist based in Cambridge, MD, also urged MASMI students to apply — even if they weren't yet ready to start their full-time careers.

"We're always looking for talented salespeople. One of the best ways to start is by interning," he said, encouraging rising juniors to seek internships with the company.

SU alumnus Amanda Abbott, a Baltimore-based professional clothier for the Tom James Co., the world's largest manufacturer and retailer of custom clothing, told the students she was sitting in their seats just a few years earlier. The former SU Sales Club vice president got her start interning with Tom James; now, she is a leading seller.

"I wake up every day loving what I do," she said, noting that she has gotten to know some clients so well, they invite her to family functions. "I don't know how many people can say that."

She also offered advice for the future SU alumni: "We look for character, ambition and talent, but the most important of those traits is character. We can teach you how to make calls, but we can't teach good character."

Rounding out the speakers was Kevin Idoni, director of vendor relations for Delaware-based Avalanche Industries, the world's largest online retailer in the third-party marketplace (such as Amazon.com sales). Reiterating many of the afternoon's points, he stressed the benefits of a sales career and the steps it takes to make that career viable.

"Our team's cohesion and success is a top priority for us," he said. "They are what makes us a successful company."

MASMI students said they enjoyed interacting with the sponsors — and learning from seasoned professionals.

"They definitely said some things that made me interested," said senior marketing major Kyle Murphy of Bel Air, MD. "My father is in sales, so I grew up in the industry. I could relate to a lot of what [the speakers] said."

Olivia Taylor, a sophomore international business and marketing major from Mt. Airy, MD, said she hoped to pursue sales as a career — with a focus on pharmaceuticals — not only for the financial potential, but because it aligns with her personal goals.

"I want to help people as much as possible," she said. "I want to see the world, and I love meeting new people."

For more information call 410-543-6030 or visit the SU website at www.salisbury.edu.