Friday, December 11, 2015
SU Students Among Nation's Best in Business Strategy Game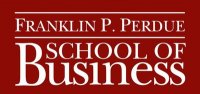 SALISBURY, MD---Salisbury University management and marketing students in the Franklin P. Perdue School of Business were recognized among the nation's best participating in this semester's global Business Strategy Game simulation.

In October, a team of students consisting of Travis Clarke, Domenic Cristaudo, Stephen Gresham, Cindie Jones and Alex Paciga were ranked among the top 100 out of nearly 3,000 virtual businesses in the competition. Overseen by Dr. Richard Hoffman of the Management and Marketing Department, the team was recognized for its overall game-to-date score and its return on average equity.



This semester's scenario simulated an athletic footwear company, focusing on sales in Europe-Africa, North America, Asia-Pacific and Latin America. The goal: Sharpen students' business and management skills while strengthening their competitive edge. More than 200 colleges and universities fielded teams.

For more information call 410-543-6030 or visit the SU website at www.salisbury.edu.