Thursday, April 10, 2014
SU Student Studies Bicycle Use on Campus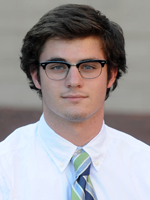 SALISBURY, MD---When it comes to transportation, Salisbury University students aren't picky about the number of wheels. For short trips, many will travel via bicycle rather than car.
But what exactly is the flow of bicycle traffic on campus, and how well are SU's bike racks being utilized? Those are questions environmental studies major Mike Bengtson hopes to answer.
The senior from North Potomac, MD, has spent much of this semester monitoring bicycle use on campus as part of an experiential learning course directed by Dr. Sarah Surak of the Environmental Studies Department.
He became interested in pursuing the study as the Student Government Association's 2013 vice president of sustainability. In that role, he heard from many students about the need for additional bike racks on campus.
Twice a week, Bengtson counts the number of students pedaling north to south on the Henson Science Hall Lawn, and he tallies the number of bicycles at each bike rack at SU. Each week he reports his findings to Wayne Shelton, campus sustainability and environmental safety director.

So does the campus really need more bike racks? Maybe, Bengtson said. However, he believes some racks are underused and may benefit from relocation to areas where traffic is heavier or more promotion of their current location.

He added that wider sidewalks throughout the University may encourage more students to cycle by providing enough room for both bikes and pedestrians. And one more observation: students tend not to ride their bikes as much in the snow. This winter's weather has hampered his counts on some days … but he's not discouraged.

Bengtson plans to present his data during the 13th annual SU Student Research Conference on Friday, April 25, and, at the end of the semester, make recommendations to the SU administration.

Following his expected graduation this May, he hopes to pursue a degree in mechanical engineering at the University of Maryland, College Park, so he likely will not be around to see his suggestions enacted. But that doesn't bother him.

"As long as it happens, I'll still be excited," he said.

For more information call 410-543-6030 or visit the SU website at www.salisbury.edu.