Thursday, February 18, 2016
SU Student Receives Humanitarian Award at King Celebration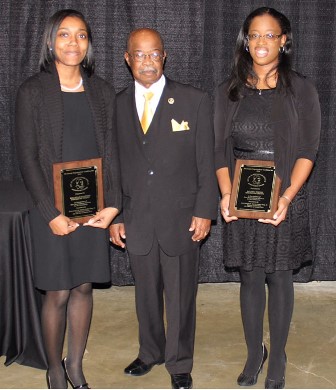 SALISBURY, MD---When Khadijah Sampson and Jaleesa Young began providing school supplies to less fortunate students in their hometown of Cambridge, MD, in August 2013, they didn't expect any sort of recognition.

Earlier this year, they received it. Sampson, a senior biology major at Salisbury University, and Young, a recent graduate of Morgan State University, earned the prestigious Humanitarian Award at this year's Dr. Martin Luther King Jr. Celebration, hosted by the Tri-County Organizations' Coalition, Inc. at the Wicomico Youth & Civic Center.

The award honors those who give back to their home counties on Maryland's Eastern Shore.

The duo came up with the idea to help less fortunate students while working together at Dairy Queen in Cambridge.

"We saw an importance in boosting education," said Sampson. "There are people who don't have the means for school supplies, and, as graduates of the Dorchester County Public School System, we saw this as a way to make a difference."

Planning to pursue her M.D. after graduating from SU, with a goal of becoming a pediatrician, Sampson said she and Young were already brainstorming ways to expand the program. Ultimately, she would like to see a center for homework help and mentoring in Dorchester County, maybe even a non-profit to help young people in the area.

For now, however, she and Young plan to continue making sure students have the paper, pencils and other supplies they need to be successful as they pursue their own diplomas.

Pictured: Presenter Lee Taylor, center, with award winners Khadijah Sampson and Jaleesa Young.

For more information call 410-543-6030 or visit the SU website at www.salisbury.edu.