Wednesday, May 7, 2008
SU Student Place Second in AMA Competition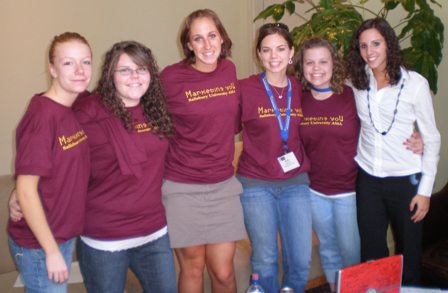 SALISBURY, MD---Some 21 students from Salisbury University's chapter of the American Marketing Association (AMA) recently attended the AMA's 30th annual International Collegiate Conference in New Orleans.
SU placed second out of 12 overall in the AMA's Strategic Allocation of Business Resources (SABRE) simulation project, besting teams from universities including Drexel and LaSalle. SU's team also garnered a third place finish across two industries in the simulation.
"Such results confirm that our graduates can compete effectively against with Division I schools," said Dr. Frank Shipper, chair of the Management and Marketing Department.
The SU chapter of the AMA received recognition for fund-raising and community service at the conference. Additionally, students were able to network with some 1,360 marketing executives and other students from the United States, Puerto Rico and Canada.
Team members included chapter president Caitlin Keller, Kelly Rice, Catherine Riordan, Kellie Mooney, Ashley Willnecker and Alexandra Nelson. The team was accompanied by its faculty advisor, Dr. Kirsten Passyn. Other students attending were Madison Sutphin, Laura Kordzikowski, Kevin Lund, Matthew Lyons, Dean Sonetirot, Brian Fanshel, Stephen Debernardis, Charlene Delia, Jessica Mestro, Shannon Tylor, Istau Bah, Erin McNutt, DeAnna Orwig, William Bulla, and Katherine Hartwig.
For more information call 410-543-6030 or visit the SU Web site at www.salisbury.edu.