Thursday, May 26, 2016
SU Student Named Gerald A. Elkins Intern at Baltimore City Planning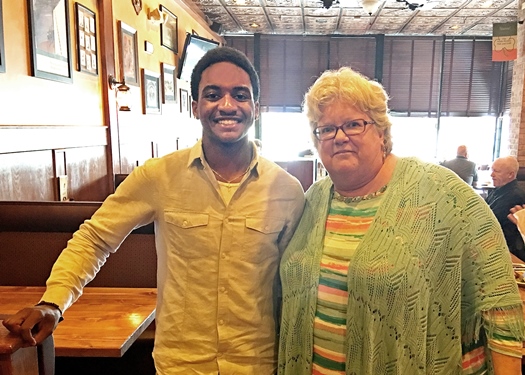 SALISBURY, MD---A Salisbury University student with ties to Baltimore will be learning how the city shapes its future as the Gerald A. Elkins Intern at the Baltimore City Planning Department.

Geography major Timothy Williams Jr. of Owings Mills, MD, is the second winner of the award, receiving a $1,500 stipend. Additional funds from the Planning Department have been provided to make it a full-time summer position starting in June.

"Having grown up in Baltimore, this award means a great deal to me," Williams said. "My family has a history in the city and so I've spent a fair amount of my life there. This award represents a chance to further my career and my knowledge, but it also gives me a start on a path toward giving back to the community. Hopefully there are more opportunities like this down the road for me to have an even greater impact."

One of only a few endowed internships at the University, the Elkins Internship Award helps students explore careers in urban planning and mapping. It was established through the SU Foundation, Inc., to honor Gerald Elkins, the late husband of SU Chief of Staff Amy Hasson. The couple met at Baltimore's Planning Department, where he was a dedicated professional for over four decades and she also worked for 15 years.

"I thought it was important to offer SU students an urban planning experience, while also honoring Gerald's legacy," Hasson said. "What better place to do so than in Baltimore City Planning, one of the best planning departments in the country, and the place where we met and spent so many years working among smart, creative and visionary colleagues."

A 2013 graduate of Owings Mills High School, Williams is the son of Tim and Sandra Williams of Owings Mills. Now a junior at SU, he is studying geographic information science, in addition to geography.

Williams said he hopes the internship will help him refine his skills and develop new ones. "I am truly glad to have this opportunity to gain a better understanding of my field and to possibly make connections for the future," he added.

Elkins Internship award recipients must be full-time geography or geosciences students, with a 3.0 G.P.A. and demonstrated academic success and leadership skills.

At SU, Williams is treasurer of Men of Distinction, a student group that helps develop professional skills such as interview attire, resume writing and appropriate social media use. He also has participated in SU's Big Event and I Love Salisbury community clean up days, and is a member of the Black Student Union and SU NAACP Chapter.

For more information, call 410-543-6030 or visit the SU website at www.salisbury.edu.