Monday, July 28, 2008
SU Student Mural Depicts City's Past, Present and Future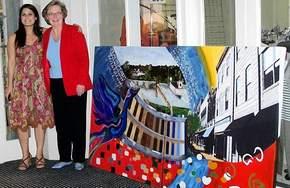 By Scott Muska
Staff Writer
The Daily Times
SALISBURY, MD---Melissa Zarou, a Salisbury University senior majoring in graphic design and English literature from Silver Spring, MD, was commissioned by Urban Salisbury this summer to create a multimedia oil painting based on the theme of "Downtown Salisbury: Past, Present & Future." The mural was then donated to the city.

"I'm very grateful to have been given such a great opportunity so early in my prospective art career," Zarou said. "The ultimate dream of an artist is to have their work displayed for others to see; and when I first started this project I had no idea that it'd be displayed so prominently."
Allan Hope, Urban Salisbury executive director, said the mural should be placed for maximize visibility.
"Our thought was that something that commemorative should be put on public display, and the government building was the place where the most people would see it over the longest period of time," he said. "The mural is a very contemporary representation of the past, present and future of Salisbury."
Zarou said the 94-by-48-inch painting was, by far, the largest project she had ever attempted and felt it gave her a chance to share her outlook and appreciation of Salisbury.
"I concentrated mostly on the bridge between nature and economic development in Salisbury," she said. "The town was initially formed and developed around the river, then the railroad came after that and was the main thing that originally formed the community."
Zarou also used the painting to stress the importance of maintaining equilibrium between economic growth and natural preservation, as well as to portray the bright future for Salisbury economically and artistically.
Tilghman said an unveiling will be held to recognize the hard work, talent and planning that went into the creation of the mural.
"I think that Melissa really captured some of the spirit of downtown Salisbury with her work," Tilghman said. "It's an absolutely magnificent painting. The moment I saw it I knew that it ought to be displayed in the government building, because everyone that comes through the door is going to see some of the unique and important features of Salisbury."
Reprinted with permission from The Daily Times