Monday, March 12, 2018
SU Student Earns DAAD RISE Research Internship in Germany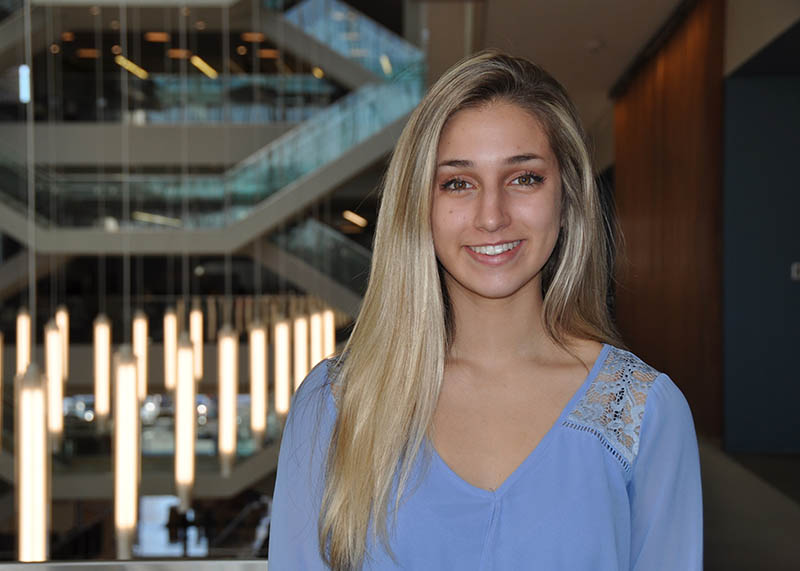 SALISBURY, MD---Salisbury University junior Lauren DeLong has been selected for a prestigious summer research internship in Germany to work on a project related to cardiovascular disease.

Through the Research Internships in Science and Engineering (RISE) program administered by the German Academic Exchange Service (DAAD), DeLong will spend three months at Bonn-Rhein-Sieg University of Applied Sciences in Rheinbach.

"DAAD RISE offers exposure to prestigious scientific research and an incredible experience abroad," DeLong said. "I chose my project because I'm interested in inflammation and its role in cardiovascular disease."

Paired with a German doctoral student, DeLong will work on developing a blood vessel model for atherosclerosis (fatty deposits that can clog arteries) using human mesenchymal stem cells.

"I'll be on the biotechnology side of research, creating a system to better study this common cardiovascular disease for future experiments," she said. "The model will be used to study drug development specifically to treat atherosclerosis."

A native of Laurel, MD, DeLong is majoring in biology and minoring in chemistry and mathematics. She is president of SU's American Society for Biochemistry and Molecular Biology Club and a member of the SU Honors College, which is providing support for her travel to Germany. An SU Undergraduate Research Fellow, she has conducted research with SU biology faculty and presented at the National Conference on Undergraduate Research in Memphis, Experimental Biology conference in Chicago, Northeast Regional Honors Conference in Boston, and SU Student Research Conference.

Last summer, DeLong interned at the National Institute on Aging's Laboratory of Cardiovascular Science researching a model for sinoatrial nodal cells in the heart. Now, she said, she is looking forward to joining the worldwide scientific medical community.

"If we successfully design a model for atherosclerosis, then other scientists will be able to use it," she said. "In just one summer I have the chance to make a huge impact."

"Salisbury University is known for the undergraduate research opportunities it provides for students and we are excited that Lauren will be going abroad to gain additional experience as a DAAD RISE scholar," said Dr. Kristen Walton, director of SU's Nationally Competitive Fellowships Office.

RISE Germany offers matches undergraduates from North America, Great Britain and Ireland with doctoral students in Germany who serve as their summer mentors. Nearly 1,700 students applied for some 550 positions.

The program is designed to motivate undergraduates to learn more about Germany's research landscape and study opportunities, and promote student exchange in the fields of natural science, engineering and life sciences.

SU students or alumni who are interested in applying for national fellowships may contact Walton at kpwalton@salisbury.edu for assistance. For more information, visit www.salisbury.edu/nationalfellowships.