Monday, January 29, 2018
SU Student Artwork Accepted for Texas Sculpture Garden Competition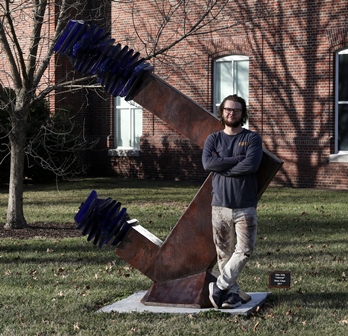 SALISBURY, MD---A campus sculpture by a Salisbury University student is heading to Texas.

"Altered," a glass and steel sculpture by senior art major Alec Aita of Salisbury, currently installed outside SU's Fulton Hall, has been accepted for the 14th annual sculpture garden competition at the Kemp Center for the Arts in Wichita Falls, TX.

The artwork will be exhibited at the center for one year during the nationally juried competition, judged by Tennessee-based sculptor Isaac Duncan. This marks the first year the event was opened to all artists for submissions instead of invitation only.

A year-long exhibition of works selected for the competition is scheduled to open at the Kemp Center in May. The sculpture will be relocated from SU later this semester.

Aita is a graduate of Parkside High School.



For more information call 410-543-6030 or visit the SU website at www.salisbury.edu.