Friday, January 13, 2012
SU Spring Theatre Auditions Announced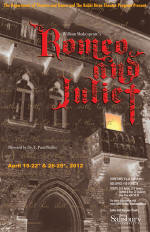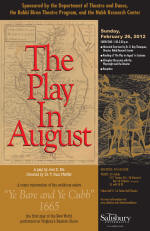 SALISBURY, MD---Salisbury University's Theatre and Dance Department announces open auditions for two upcoming productions in early February.

At 7 p.m. Wednesday-Thursday, February 1-2, auditions will be held for Shakespeare's Romeo and Juliet. Directed by Dr. T. Paul Pfeiffer, artistic director of SU's Bobbi Biron Theatre Program, performances are scheduled Thursday-Sunday, April 19-22 and 26-29.

Auditioning actors are required to perform a one two- to three-minute memorized monologue in blank verse from any Shakespeare play. Monologues should be performance ready, with clearly understood and communicated text. Callbacks will consist of readings from Romeo and Juliet.

Auditions for Joel Eis' The Play in August are 7 p.m. Saturday-Sunday, February 4-5. Also directed by Pfeiffer, the work is centered on the first play written and produced in the American colonies, Ye Barre and Ye Cubbe, which depicted in 1665 the strained relationship between England and the colonies. The staged reading is scheduled for one performance only, 2 p.m. Sunday, February 26.

All auditions and performances take place in the Black Box Theatre of Fulton Hall. Audition forms are available at www.salisbury.edu/theatreanddance/Season2011-12.html.

For more information e-mail Pfeiffer at tppfeiffer@salisbury.edu.