Wednesday, September 26, 2012
SU Sous Chef Earns Honors in Culinary Competition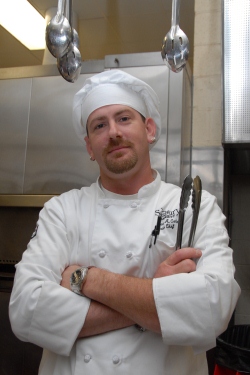 SALISBURY, MD---Matt Conley, sous chef in Salisbury University's Dining Services, recently earned silver in an American Culinary Federation competition. The event was held during the 18th annual Tastes of the World Chef Culinary Conference in Amherst, MA.
Working with colleagues from North Dakota and Pennsylvania, he created a soup/salad, entrée and dessert for four, as well as a buffet-style meal for 12. The team was judged on teamwork, presentation, nutritional balance, creativity, flavor, texture and service.
Teams used a "mystery basket" of items to create their recipes. They had only one hour to choose their dishes and determine if ingredients were available in a storeroom.
The competition was the culminating event for the conference. Conley's team was one of 17. In addition to the medal, they also earned the Campbell's Golden Ladle Award. He enjoyed the competitive spirit, and the many lectures and demonstrations.
"The speakers were from all over the country and they discussed topics including street foods, sustainability, permaculture, marketing and more," he said. "Some of the recipes I brought back will be applied in different kiosks in the Commons. Overall, it was a great learning experience."
For more information call 410-543-6030 or visit the SU Web site at www.salisbury.edu.