Wednesday, April 20, 2011
SU Sophomore Wins $7,500 in Advertising Contest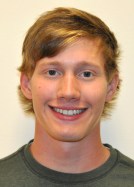 SALISBURY, MD---The video camera Max Millhausen's parents gave him for Christmas turned out to be the gift that kept on giving.
Using the device, the Salisbury University sophomore from Timonium, MD, filmed a 30-second commercial for an advertising contest sponsored by Acuvue to promote its Oasys-brand contact lenses. During spring break, he received the call: his commercial was judged the best out of 41 entries nationwide, earning him the $7,500 top prize.
"They wanted to show how comfortable the lenses are, and they wanted it to have youth appeal" said Millhausen.
His commercial depicted him as a contact lens wearer who has to write himself multiple reminders to remove his contacts later that night because they feel so natural.
Millhausen, who is majoring in art with a concentration in new media, filmed and edited his entry entirely in his room at SU's Chesapeake Residence Hall. The process took about two weeks.
He plans to use his winnings to update his editing equipment. He edited his Acuvue entry on his MacBook, but said he wants to upgrade to an iMac. He estimated that would give him enough left over to purchase new audio recording equipment, which he hopes to use in the near future to enter a similar contest for Lipton's Brisk-brand iced tea.
Millhausen's commercial may be viewed online at http://www.poptent.net/assignment/234#tab=results.
For more information call 410-543-6030 or visit the SU Web site at www.salisbury.edu.