Friday, October 3, 2008
SU Sophomore Receives Prestigious Gilman International Scholarship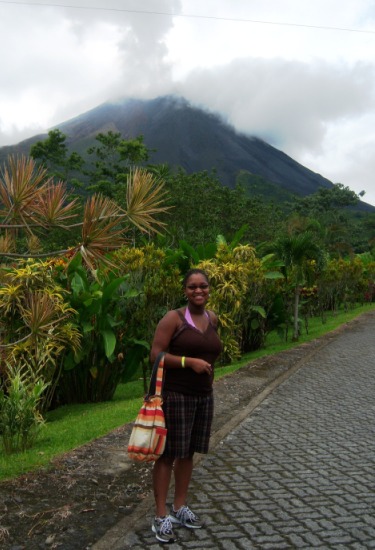 SALISBURY, MD---For the second time in two years, a Salisbury University student has been awarded the prestigious Benjamin A. Gilman International Scholarship for study abroad.
Sophomore Deziree Hitchens, a Spanish and International Studies major in SU's Fulton School of Liberal Arts is one of only 700 American undergraduates from over 320 colleges and universities to receive the award. She recently arrived in San José, Costa Rica, where she will spend the academic year exploring the Spanish language, as well as Latin American culture and civilization.
"The Costa Rican people that I have met have been very generous and I have already made new friends," she said. "I have always wanted to study and travel in a Spanish-speaking country. Now I am living my dream thanks to the Gilman scholarship."
A graduate of Sussex Technical High School in Georgetown, DE, Hitchens is studying at the Latin American University of Science and Technology (ULACIT) in Central America. Her program is managed by the Institute for Studies Abroad, an SU affiliate.
One of the selection criteria for the Gilman Scholarship is a "follow-on service project" to be completed by the student in his or her home community after the study abroad experience.
Hitchens' planned project involves outreach through the Spanish clubs at SU and at Sussex Technical and Sussex Central high schools in Delaware to promote international education. She even aspires to create a new scholarship for international study available to students who attend these high schools.
The Gilman Scholarship aims to diversify the kinds of students who study abroad and the countries and regions where they travel. The program is sponsored by the U.S. Department of State Bureau of Educational and Cultural Affairs and administered by the Institute of International Education's (IIE). Scholars receive up to $8,000.
"Study abroad is a special experience for every student who participates," said Congressman Gilman, who retired in 2002 after serving in the U.S. House of Representatives for 30 years and chairing its Foreign Relations Committee. "Living and learning in a vastly different environment of another nation not only exposes our students to alternate views, but also adds an enriching social and cultural experience. It also provides our students with the opportunity to return home with a deeper understanding of their place in the world, encouraging them to be a contributor, rather than a spectator in the international community."
Last year, Charles Pridgen, Jr., an international business and finance double major, became the first SU student to be awarded the scholarship.
To be eligible for a Gilman scholarship, students must be receiving a Federal Pell Grant during that semester. Applications for spring 2009 Gilman scholarships are due Tuesday, October 7, and are available at www.iie.org/gilman.
For more information, contact Dr. Brian Stiegler, director of the SU Center for International Education at bnstiegler@salisbury.edu, or visit the Center's web site at www.salisbury.edu/intled.