Wednesday, May 6, 2009
SU Seniors Earn Top 100 Rankings in GLO-BUS Simulation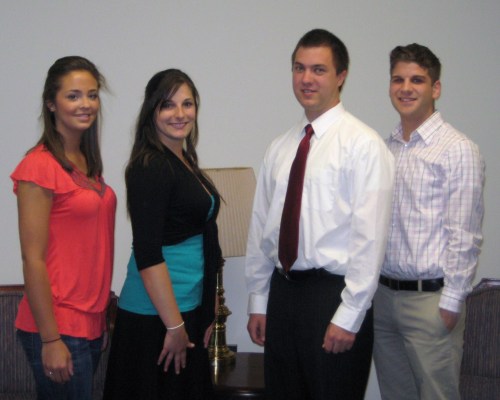 Pictured (L-R) are Glam CAM managers Kaitlyn Benson, Saralynn Lebow, Gregory Scherer and Seth Young.
SALISBURY, MD---Two virtual digital camera companies run by students from Salisbury University's Franklin P. Perdue School of Business have been ranked among the Top 100 in the world in an international competition.
More than 1,600 companies, managed by teams from 92 colleges and universities, are involved in the global business (GLO-BUS) simulation. SU seniors are participating as part of a business strategy capstone course taught by Richard Jacobs of the Management and Marketing Department.
The company GlamCAM, operated by Kaitlyn Benson, Seth Young, Saralynn Lebow and Gregory Scherer, earned top recognition two weeks in a row. From April 20-26, it had a return on average equity of 53.7 percent, tying for the 38th best in the world. The next week, its return of 46.9 percent was the 42nd best. GlamCAM's overall game score also tied as the 87th best performance.
The other SU company, Digital Answers, posted the world's 99th best overall game score during April 20-26. It's run by Tracy Kaleo, Stephanie Nadeau and Richard Berard.
"Glo-Bus illustrates the importance of having a business strategy that allows you to obtain a competitive advantage in the market," Berard said. "If you don't have a good strategy, you can't do well."
Dr. Frank Shipper, department chair, said: "What makes this accomplishment particularly impressive is that many of the teams our undergraduates compete against are graduate students from highly ranked universities. Our students leave the Perdue School prepared to live and work in a global economy."
For more information call 410-543-6030 or visit the SU Web site at www.salisbury.edu.