Thursday, March 11, 2010
SU Senior Wins $1,000 in National Perdue Farms Sweepstakes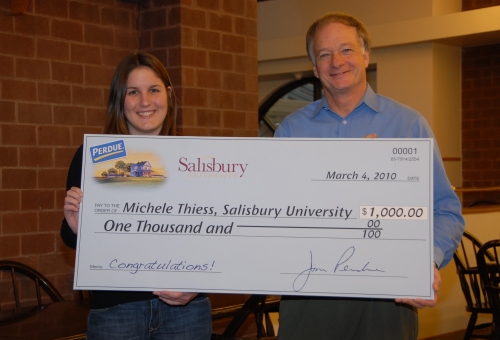 Salisbury, MD---When senior Michele Thiess sat down to a weekly dinner with friends in the Gull's Nest at Salisbury University last fall, she had no idea the meal would win her $1,000.

She ordered one of 11 SU menu items prepared with PERDUE® products, and it came with a scratch off game card for the Savor The Rewards: Instant-Win Cash Sweepstakes. The promotional program was being run by Perdue Farms, Inc. at colleges and universities nationwide.

Thiess didn't win an instant prize, but she entered a promotional code online and filled out a short questionnaire for a chance to win the $1,000 national grand prize. In February, she got the call.

"I thought someone was playing a joke on me," Thiess said about being notified of her sweepstakes win. "I didn't believe it at first. I was like 'Are you serious?'"

Perdue Farms CEO Jim Perudue recently returned to his Alma Mater to personally present Thiess with a $1,000 Visa gift card. "There's no bias here," Perdue joked.

The contest ran from September 1-December 15, 2009, and Thiess was randomly selected as the sweepstakes winner from among entries nationwide. Many other customers instantly won $15 or $25 Visa gift cards, $5 meal credits and free fountain drinks from the scratch off cards.

The program was designed to not only highlight Perdue Farms' products being used in higher education food service operations, but also reward student-customers. SU Dining Services played an instrumental role in its development before it went national.

"Last spring, Perdue approached us about hosting a sweepstakes for student consumers," said Paul Land, director of auxiliary services at SU. "Company representatives bounced ideas off our staff and the Focus On Our Dining (FOOD) Committee, which is comprised of students, before we kicked off the program. We were all very pleased that an SU student won the grand prize. Michele graduates in May and I am sure the $1,000 will come in handy during her transition. We proudly serve many Perdue Farms products in all of our operations, and students are always appreciative of the consistent quality."

Featured Gull's Nest menu items included chicken tenders; buffalo wings; buffalo chicken wraps or subs; ham, turkey, roast beef, Italian cold cut and chicken tender subs; pier combos; and sweet and sour chicken cordon bleus.

Based on the success of the initial promotion, round two will begin in April.

For more information call 410-543-6030 or visit the SU web site at www.salisbury.edu.