Monday, March 21, 2016
SU Senior Receives Inaugural Choptank Transport, Inc. Award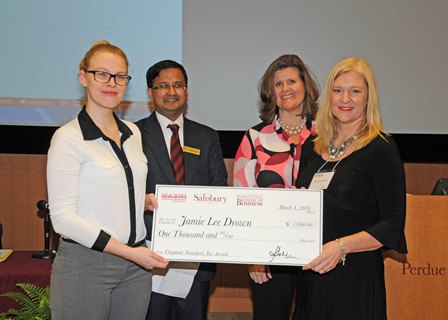 SALISBURY, MD---Jamie Lee Drown of Salisbury recently was announced as the recipient of the inaugural Choptank Transport, Inc. award through Salisbury University's Mid-Atlantic Sales and Marketing Institute (MASMI).

The award includes a $1,000 scholarship, presented by the Preston, MD-based nationwide freight and logistics provider during the MASMI's first sales conference, held at SU's Perdue Hall.

Drown is a senior at SU, majoring in marketing. She is a member of the Marketing Excellence Club and also a recipient of the Dolle and House of Delegates scholarship awards. She is a 2011 graduate of Gymnasium Eversten in Oldenburg, Germany.

For more information call 410-543-6030 or visit the SU website at www.salisbury.edu.