Monday, February 23, 2009
SU Senior Mackley Earns Prestigious ASCP/Siemens Legacy Scholarship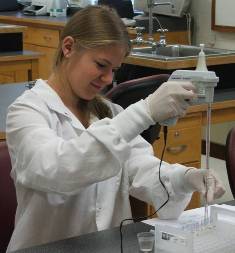 SALISBURY, MD---Salisbury University senior Anna Mackley, a laboratory science/medical technology major, recently received the prestigious American Society for Clinical Pathology/ Siemens Healthcare Diagnostics Legacy Scholarship.
The award is one of only five given in the United States. To be eligible for a Legacy Scholarship, the student must be a child, grandchild or sibling of a clinical laboratory professional. Mackley's mother is a practicing clinical laboratory scientist at Carroll Hospital Center in Westminster, MD.
Mackley's achievements include a strong academic record and a summer internship at St. Joseph's Medical Center in Baltimore. She is currently involved in an undergraduate student research project on the survival of E. coli O157:H7 on bathroom surfaces.
For more information about the Clinical Laboratory Science and Medical Technology Program, contact Dr. Diane Davis at 410-548-4787 or visit the SU website at www.salisbury.edu.