Monday, April 13, 2015
SU Senior Fine Arts Show April 13-18, 27-May 2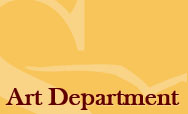 SALISBURY, MD---Salisbury University's Fulton School of Liberal Arts presents its 52nd biannual Senior Fine Arts Show, "Dimensions," in the University Gallery of Fulton Hall.

The exhibition features works by 28 seniors, representing one of the largest classes of fine arts students in SU's history. The pieces represent the artistic vision and technical knowledge each student has developed over four years of undergraduate study.

The first part of the exhibit, from Monday-Saturday, April 13-18, features video installation, large-scale sculpture, paintings, photography and ceramic work. The second part, Monday-Saturday, April 27-May 2, includes wet plate collodion photography, painting, drawing and a ceramic seascape installation.

A reception and President's Award ceremony for both are 5-7 p.m. Friday, May 1.

Gallery hours are 11 a.m.-4 pm. Monday-Friday, noon-4 p.m. Saturday, other times by appointment. Admission is free and the public is invited.

For more information call 410-548-2547, email galleries@salisbury.edu or visit the SU Art Galleries website at www.salisbury.edu/universitygalleries.