Friday, June 26, 2015
SU Senior Earns VCSFA Internship at NASA Wallops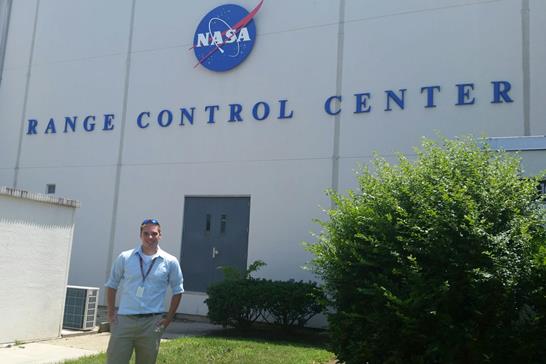 SALISBURY, MD---The Virginia Commercial Space Flight Authority has created a paid summer internship program for students in Salisbury University's Geography and Geosciences Department at the NASA Wallops Flight Facility.

SU senior Adam Phipps-Dickerson is the first to earn the 12-week internship, which includes a stipend to aid with transportation and other logistical expenses.

The program was created through a gift to the SU Foundation, Inc., which will provide for a second internship next summer.

"This internship with the Mid-Atlantic Regional Spaceport provides me with vital real world work experience in the Geographic Information Science (GIS) field," Phipps-Dickerson said. "This is an essential first step as I enter my senior year at SU and prepare to start my career. I also have many networking opportunities from going to meetings and communicating with NASA employees to attending launches. Having a paid internship at an exciting location like Wallops is a great opportunity."

During the summer, Phipps-Dickerson will work on a team with NASA employees and contractors to analyze the issue of Distant Focusing Overpressure (DFO).

This condition occurs when atmospheric effects cause pressure waves from large explosions to concentrate at distant locations, he explained. Overpressure may break windows, and is one of the risk considerations during a launch.

"DFO calculation is a matter of public safety and is a criteria that can keep a launch from occurring," Phipps-Dickerson said. "My role on the team is to incorporate GIS and Python scripting to update databases of local population and structures to help improve the accuracy and reliability of the software that computes DFO risk."

"The VCSFA has created a great opportunity for our students, providing them with real-world experience and contacts with potential employers," said Dr. Michael Scott of SU's Geography and Geosciences Department. "Adam is one of our very high performing GIS students and joins several SU alumni working at Wallops."

Phipps-Dickerson graduates from SU with a B.S. in geographic information science in spring 2016. A Lower Shore native, he is the son of Ray and Mary Phipps-Dickerson of Snow Hill, MD. He is a 2012 graduate of Snow Hill High School.

For more information, call 410-543-6030 or visit the SU website at www.salisbury.edu.