Wednesday, March 16, 2011
SU Senior Earns National 'Flying Wild' Award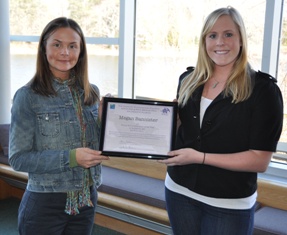 Kimberly Check and Megan Bannister

SALISBURY, MD---Salisbury University senior medical laboratory science major Megan Bannister is Flying Wild. And that's not necessarily a bad thing.

Bannister, the daughter of Vicki and Tim Bannister of Catonsville, MD, recently received the national Facilitator of the Year Award from Flying Wild, a Council for Environmental Education program that introduces middle school students to bird conservation.

The SU student became involved in Flying Wild as an intern at SU's Ward Museum of Wildfowl Art. During the fall 2010 semester, she created and distributed resource kits for local teachers, containing books and information on teaching avian studies.

Of course, this meant she had to learn how to "bird"—watching for and identifying different species of birds. Under the auspices of Kimberly Check, the museum's education director, she put that skill to use during multiple activities, including a retreat she organized at Assateague Island. With Jeff Gordon, president of the American Birding Association, in tow, she received special permission for her group to drive across the beach to areas where vehicle access is normally restricted.

"That was my most memorable moment of the program," she said.

However, there may be even more to come. Bannister said she plans to continue working as a volunteer with the program. After graduating from SU, her hope is to secure a position in animal research, possibly as a marine biologist.

For more information call 410-543-6030 or visit the SU Web site at www.salisbury.edu.