Monday, May 2, 2016
SU Says Farewell to 37 Retirees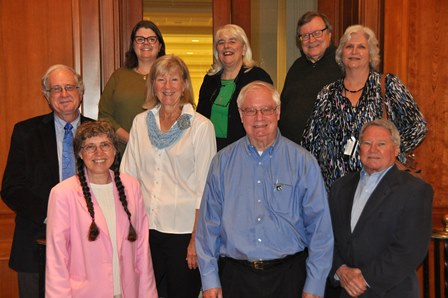 "A teacher affects eternity; he can never tell where his influence stops." – Henry Brooks Adams

Salisbury University says farewell to 37 retiring and recently retired faculty and staff who have influenced thousands of students throughout the years. Together, they represent nearly eight centuries of experience.

They are (date of hire in parentheses): Dr. Ray Thompson (1972), History; Drs. George Whitehead (1972) and Marta Losonczy-Marshall (1994), Psychology; Jeannette Schadler (1982), Admissions; Betty Crockett (1983), Administration and Finance; Larry Fields (1984), Willie Nicholson (1987), Iris Dryden (1989), Allison Nicholson (1993), Philip Frank (1998), Yvonne Conway (2004) and Preston Dryden (2008), Physical Plant; Drs. Jerome DeRidder (1985) and Michael Garner (1990), Accounting and Legal Studies; Klaudia Thompson (1988), Modern Languages and Intercultural Studies; Michael Vienna (1989), Athletics; Dr. Michael Folkoff (1990), Geography and Geosciences; Drs. Paul Grecay (1990), Barbara Pollock (1993) and Wanda Jester (2006), Biological Sciences; Dr. David Kanarr (1992), Physics; Drs. Patricia Richards (1992), Joel Jenne (1995), Nancy Michelson (1995) and Kenneth Milner (1997) and Theodore Gilkey (2003), Education Specialties; Dr. Ronald Dotterer (1993), English; Anthony Cerulli (1997), Dining Services; Dr. Jody Morrison (1997), Communication Arts; Terri Elliott (1989), Chemistry; Brenda Boggs (2000), Procurement; Sam Gibson (2000), Publications; Carol Wellinghoff (2001), Advancement; Tina Melczarek (2004), Philosophy and Conflict Analysis and Dispute Resolution; Juliet Murawski (2004), Financial Aid; and Tasha Thomas (2005), Counseling Services.

All have contributed to their fields and the University in unique ways.

Pictured, from left are Ray Thompson, Losonczy-Marshall, Melczarek, Wellinghoff, Klaudia Thompson, Whitehead, Dotterer, Elliott and Garner.

For more information call 410-543-6030 or visit the SU Web site at www.salisbury.edu.