Thursday, October 27, 2011
SU SGA Hosts Spirit Week Through Nov. 5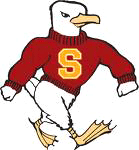 SALISBURY, MD---From a game show and pep rally to a carnival and battle of the bands, Salisbury University's Student Government Association rallies the campus for Homecoming during Spirit Week, October 31-November 5.
This year's theme is "Look at Me Squawk." Events begin 6 p.m. Monday, October 31, with Minute to Win It games, patterned after the popular NBC TV show, in the Wicomico Room of the Guerrieri University Center.
A pep rally is 9 p.m. Tuesday, November 1, in Maggs Gym. A "Big Six" carnival is 1 p.m. Wednesday, November 2, on the Devilbiss Hall Mall, hosted by the SGA, Appropriations Board, Saferide, WXSU, Student Organization for Activity Planning (SOAP) and The Flyer.
The annual Spirit Week wing eating contest is 5 p.m. Thursday, November 3, in Red Square, following a Battle of the Bands at 6 p.m.
A Homecoming pageant is 7 p.m. Friday, November 4, in Holloway Hall Auditorium. Those wishing to enter should contact Emily Pinkham at ep62101@gulls.salisbury.edu.
Spirit Week culminates with the SGA's annual Homecoming block party, with inflatables provided by SOAP, from 11 a.m.-3 p.m. Saturday, November 5, at the Intramural Fields.
For more information call 410-543-6125 or visit the SU Web site at www.salisbury.edu.