Monday, August 24, 2015
SU Remembers Marilyn Seidel, 1931-2015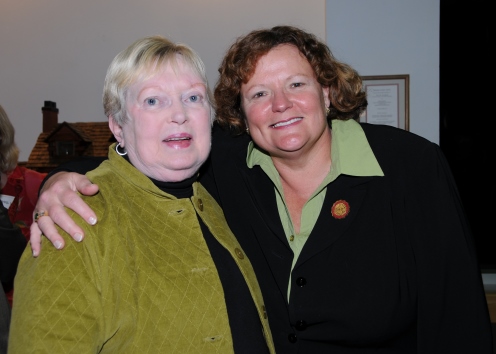 Marilyn "Lynn" Seidel and the Seidel family are in the forefront of the pantheon of benefactors to Salisbury University, enriching the lives of students, faculty and the greater community.

She and her husband, Sam, endowed the Seidel School of Education and Professional Studies in 1997, making it the first named endowed school of education in Maryland and, at the time, only the second in the United States. The $1 million Seidel gift was the capstone of a campaign which raised some $3 million for the school. This meant that all four of the University's schools were now endowed, a rarity among public institutions nationwide.

Much of the endowment was earmarked for scholarships as well as programs supporting faculty, and library acquisitions. "We wanted to make public education better by better educating teachers and enabling more to go into education with these scholarships," Marilyn said at that time.

Following her husband's death in 2001, she continued to maintain close ties to the campus, regularly attending Seidel School events, including the Riall semi-annual lecture series, which she often enjoyed with her daughter. She also served on the SU Foundation, Inc. board from 2002-2011, where her friendly and positive presence made her a welcomed member.

Prior to their bequest, the Seidels had been recognized leaders in promoting education. They had financed some 14 scholarships throughout the region, seven at SU. Marilyn, a retired operating room nurse, is remembered with great fondness by the SU Nursing Department. She took a special interest in nursing education and generously supported nursing students with a scholarship. Many of its recipients went on to careers of leadership and service.

Marilyn and Sam's tradition of philanthropy and engagement continued with the next generation. All three of their children are SU graduates: Michael Seidel, Howard "Hank" Seidel and Jennifer Seidel Duhe. All went on to graduate school. Mike, a nationally recognized meteorologist, regularly visits campus, speaking to students in meteorology classes and generously supporting the Geography and Geosciences Department. Jenni, who earned both bachelor's and master's degrees in education, has been actively engaged with the Children's and Young Adult Literature Festival and the Green Earth Book Award, bringing classes to campus and sponsoring visits by nationally recognized authors to Pemberton Elementary where she teaches. Grandchildren also have attended classes here.

"Lynn was a generous soul in every sense of the word. She and her family worked hard to make their dreams a reality and helped others to do the same. Their name is synonymous with fairness, public service and advancement through education. We treasure her memory as we mourn her passing," said SU President Janet Dudley-Eshbach.