Saturday, May 7, 2011
SU Remembers Former President Bill Merwin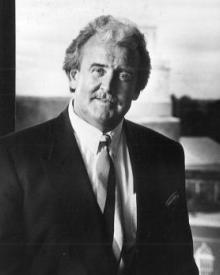 Former Salisbury University President William C. "Bill" Merwin died Friday, May 6, in Jacksonville, FL, after a lengthy illness. He was 71.

"Bill Merwin was an enthusiastic ambassador for higher education," said SU President Janet Dudley-Eshbach. "At Salisbury, he was instrumental in the planning and funding of Henson Science Hall. A champion of undergraduate research, he hosted SU's first National Conference on Undergraduate Research. He was committed to inclusiveness and among his gifts was a remarkable capacity for remembering names and making people feel welcomed and valued. He will be missed."
Merwin served as president of then Salisbury State University from 1996 – 1999. During his tenure, the University completed a $13 million capital campaign, created the Institute for Public Affairs and Civic Engagement, launched a community access television station, and established new academic programs. The Samuel W. and Marilyn C. Seidel School of Education and Professional Studies was also endowed.

Prior to coming to SU, Merwin held two other presidencies: State University of New York at Potsdam (1989 – 1996) and Montana State University-Northern (1985 – 1989). After leaving SU, he had a distinguished career at Florida Gulf Coast University (1999 – 2007).

Merwin is survived by three sons and their wives, John and Margie, Michael and Donna, and William Jr. and Netta; as well as seven grandchildren, one great-grandchild, a sister, a brother, and several nieces and nephews.

Services will be held 11 a.m. Monday, May 9, at Hardage-Giddens Funeral Home, located at 11801 San Jose Blvd., Jacksonville, FL 32223. Donations in his memory may be sent to Community Hospice Foundation, 4266 Sunbeam Rd., Jacksonville, FL 32257. Condolences may be sent to the family in care of Mr. and Mrs. William Merwin Jr., 1422 Mallard Landing Blvd., St. Johns, FL 32259.