Monday, May 7, 2007
SU Relay Co-Chair Named to U.S. College Against Cancer Leadership Team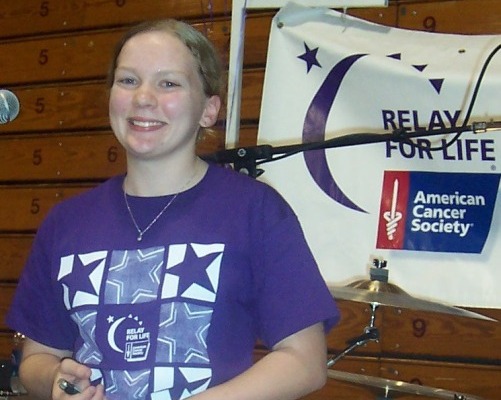 SALISBURY, MD---Salisbury University junior Julie Bayer, co-chair of this year's Relay For Life, has been named to the leadership team for Colleges Against Cancer (CAC), a nationwide American Cancer Society program that unites college students, faculty and staff in the fight against cancer.
She is the first representative from Maryland to serve on the seven-member CAC team chosen to represent more than 300 chapters at campuses across the United States, according to the ACS. She will oversee Relay For Life for the organization, which is also involved with grassroots advocacy, prevention and detection education, as well as activities honoring survivors.
"Julie has a wonderful passion and enthusiasm, and it's infectious," said Mary Bellis, ACS mission manager, who works with SU's CAC chapter. "She is going to be able to help other chapters across the country to increase their success." She said Bayer is a driving force behind SU's CAC chapter, encouraging students and the campus community to get involved in cancer awareness programs, including Relay, and to make healthy lifestyle choices such as not smoking.
"My job is to help chapters incorporate the other strategic directions of advocacy, cancer education and survivorship into their Relays, which is something that I have been focusing on for SU's event," Bayer said. "We want people to know more about the ACS mission because it helps them realize where their money is going if they see some of the other great services ACS provides."
During the past three years, Bayer has served as team captain, luminary chair and event co-chair of SU's Relay, which has been one of the top collegiate Relays in the nation. This year, some 86 teams participated and more than $97,000 has been raised from the event, which she helped organize.
"It's truly amazing for a small rural school to be as successful as SU is," Bellis said. "People always say, 'How do you all raise so much money?' and it's because it's personal and the whole campus supports it." Bayer got involved after seeing the impact of cancer on the family of a friend whose father was diagnosed.
As a member of the 2007-'08 CAC team, Bayer will participate in nationwide conference calls between chapters and help publish a monthly newsletter. In June, she will attend a five-day meeting in Atlanta, GA, before participating in the national Relay For Life summit in Dallas, TX, in August. She will also help plan and attend the organization's National Summit in the fall.
For more information, call 410-543-6030 or visit the SU Web site at www.salisbury.edu.