Tuesday, October 11, 2016
SU Ranked No. 1 for Environmental Studies in Maryland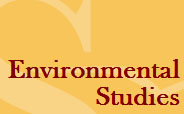 SALISBURY, MD---Salisbury University is the No. 1 school for environmental studies in Maryland, according to a recent ranking by Environmental Science.org.

The site ranks SU at No. 35 nationally. Only one other Maryland campus, the University of Maryland, Baltimore County, is included. The full rankings are available online at www.environmentalscience.org/top-schools.

Environmental Science.org considered several factors in creating the list, including location ("It's difficult to imagine studying the interactions of the natural world from the city," the site said), faculty, study abroad opportunities, program breadth, degree levels offered and research quality. Also a factor: thinking green ("Does your Environmental Sciences program 'walk the walk'?")

"We are honored by this ranking," said Dr. Michael Lewis, chair of SU's Environmental Studies Department. "It's hard to imagine how much Environmental Studies has grown in the past 15 years — from a minor to the 35th-ranked program in the country."

As examples, he cited not only the department's 2012 founding, but the creation of SU's environmental studies major in 2004, formation of the Green Floor as SU's second Living Learning Community in 2007, a new Environmental Studies House on campus in 2013 and the establishment of SU's Nanticoke River Center in 2015 to support environmental education and fieldwork.

"This is a special place to study the environment," he said.

In addition, the department hosts a public series of environmental lectures each semester. More than half of Salisbury's environmental studies graduates complete internships, and more than half also study abroad.

SU has long been a proponent of sustainability, implementing a campus recycling program in 1990, before many other schools. In 2007, SU President Janet Dudley-Eshbach signed the American College and University Presidents' Climate Commitment, pledging to move SU toward climate neutrality with the goal of eliminating net greenhouse gas emissions by 2050.

Since 2009, SU has produced six U.S. Environmental Protection Agency Greater Research Opportunity Fellows. It is home to the Eastern Shore's first public electric vehicle charging stations (at Perdue Hall), as well as the Shore's first U.S. Green Building Council Leadership in Energy and Environmental Design (LEED)-certified new construction project (Conway Hall). Today, SU boasts nine LEED-certified buildings.

Other recent sustainable efforts include removing trays in the Commons dining hall to reduce food waste, as well as water and chemical use in dishwashing; a bike-share program and public bicycles repair stations on campus to encourage cycling instead of driving; installation of LED lighting throughout campus; a partnership with Blue Hen Organics of Delaware that allows the campus to recycle 100 percent of its food waste.

In addition, a student-led Green Fund helps pay for sustainable projects, such as a recently installed picnic table with solar-powered lights and device charging stations, and a native species garden planted last spring between the Common and Guerrieri University Center.

For more information call 410-543-6030 or visit the SU Environmental Studies Department website at www.salisbury.edu/environmentalstudies.