Tuesday, May 3, 2011
SU President's Community Leadership Awards Announced
SALISBURY, MD---Recipients of Salisbury University's 2011 President's Distinguished Community Leadership Award are: Dr. Carolyn Stegman, an author, educator and volunteer, and Dove Pointe, Inc., which assists people with disabilities.

.: Related Sites :.

.: Related News :.

Their work is celebrated during SU's 85th year Spring Commencement on Thursday, May 19, at the Wicomico Youth and Civic Center. The awards are presented during the 10 a.m. ceremony.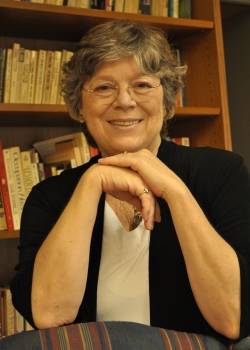 Stegman has been called a "champion of diversity, women's rights [and] the aging." She also is a "thought-provoking catalyst" for global understanding and social change.
For two decades, Stegman has taught communication, education and psychology to students at SU, the University of Maryland Eastern Shore and Wor-Wic Community College. A cultural events supporter, she helped bring singer/songwriter Holly Near, Nobel laureate Toni Morrison and feminist leader Gloria Steinem to SU. She also has opened her home to international visitors, from Tibetan Monks to exchange students.
A longtime volunteer, consultant and past board chair for MAC Inc., Stegman is currently developing its 50+ Network for Creative Engagement to empower older adults to achieve the greatest creative potential within themselves, their relationships and their community. She recently wrote a successful $1.5 million grant for the new Salisbury-Wicomico Senior Services Center, and obtained funding to build its therapy garden for dementia and Alzheimer's clients. She hosts MAC's PAC-14 show, covering issues facing older adults, and writes and edits its newsletter. She is a member of the Wicomico Commission on Aging and has served on Life Crisis Center and American Cancer Society boards.
In the 1990s, Stegman authored a weekly column for The Daily Times, exploring diversity, gender issues and other topics. In 2002, she published Women of Achievement in Maryland History, highlighting some 300 state heroines. She is a founding member of the Maryland Women's Heritage Center, the first of its kind in the nation.

Dove Pointe and executive director Donald Hackett are credited for helping those with disabilities develop a sense of purpose and productivity within their communities. The parents of one client said they appreciate Dove Pointe's "outstanding services, care and encouragement."
Started in 1968 in a vacant school in San Domingo, near Sharptown, Dove Pointe is now located in Salisbury. The non-profit currently supports over 300 individuals with intellectual disabilities, traumatic brain injuries, autism, and medical and therapeutic needs.
Through vocational training and placement, Dove Pointe helps adult clients work within its departments and at 10 community sites. Also offered are arts programs, daycare, music therapy, mentoring and home living skills instruction.
Dove Pointe runs some 67 vehicles daily, transporting clients for trainings, jobs, appointments and community integration experiences, including volunteer work. In addition, the organization serves children, providing everything from summer camps and afterschool programs, to respite care and behavioral support for families.
Recently, Dove Pointe partnered with Rotary International to expand its Mobility Opportunity Via Experience (MOVE) program to South Africa. This initiative helps the physically disabled of all ages improve skills with specialized equipment. Dove Pointe is a recipient of the Richard Henson Award for Excellence in Community Service.
The Community Leadership Awards are presented annually in two categories: individual and organization. Those in Wicomico, Worcester, Somerset, Dorchester, Accomack, Northampton and Sussex counties are eligible.
Past winners include the Community Foundation of the Eastern Shore; former Maryland Secretary of Agriculture Lewis Riley; Women Supporting Women and its founder, Sue Revelle; MAC Inc.; Henry Hanna, III; the United Way of the Lower Eastern Shore; and Dr. Peggy Naleppa.
"The award allows SU to say 'thank you' to the community and to celebrate honorees as exemplars of civic excellence for our students," said Town-Gown Council Chair Scott Jensen.
Admission to Commencement is by ticket only. For more information call 410-543-6030 or visit the SU Web site at www.salisbury.edu/communityleadership.