Thursday, April 15, 2010
SU President Joins Students for Global Service Project in Mexico
SALISBURY, MD---Skipping more traditional Spring Break activities, three Salisbury University students opted instead to spend the week volunteering in Aguascalientes, Mexico, with their college president and faculty.
Sophomores Victoria Giampaolo and Derek Oliver, and junior Samantha Koerner launched the campus' new Global Service Project: Mexico program with SU President Janet Dudley-Eshbach and Dr. Laura Marasco of the Education Specialties Department. The team completed several service projects and toured historic sites.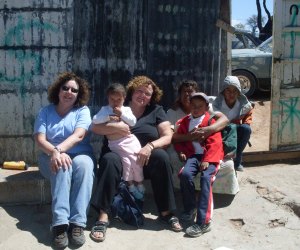 "It was truly heartwarming to see the ways in which Salisbury University students gave of themselves during this alternative spring break in Mexico," Dudley-Eshbach said. "They donated their time and money to improve conditions in impoverished communities, thereby promoting good relations between our two nations and, in a very real way, making a positive difference in the world. These students exemplified our University's values of community service and civic engagement."
A Latin American scholar who is fluent in Spanish, Dudley-Eshbach has championed international study and service at SU. She earned her Ph.D. at El Colegio de México in Mexico City.
During the project, the students worked with a team of social workers from the state of Aguascalientes' division of social services (DIF-Estatal) and members of four highly marginalized communities surrounding the capital city. Using their own funds, the students purchased and installed eight 300-gallon water cisterns to provide clean drinking water for families in two communities that lack regular access.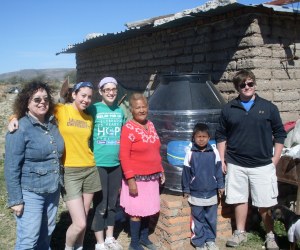 "My favorite part was actually being there when the water delivery trucks came for the first time," said Giampaolo, a nursing major from Baltimore. "The women danced, laughed and cried, and told us over and over again how much they appreciated us."
Oliver added: "Now these families all have a giant tank of fresh, clean water right outside their house to last them a month instead of having to travel for a limited supply."
In a second project, the students built two ventilated wood-burning brick stoves and installed stove pipes in two homes. Before, the women in these households cooked over unventilated stoves or open fires on the dirt floor. Smoke filled the modest houses, causing upper respiratory problems, especially for children.
"Not only was it a learning experience for us, but a great feeling to be able to use my hands and build something that will help this family out more than we could possibly imagine," said Koerner, a nursing major from Wakefield, RI.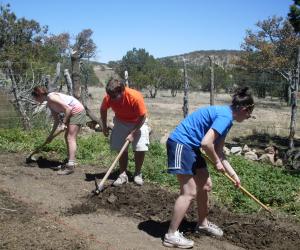 The students' last project was creating a garden for five households of the same extended family who live under challenging conditions. The students bought and planted a variety of fruit and vegetable seeds to be cultivated. The DIF Estatal social workers explained how to compost recyclable household waste for later use in the garden.
"The garden was probably the hardest work we did all week," said Oliver, a chemistry major from Ocean City, MD. "It was absolutely worth it, though, because now, once the gardens grow, the people will have fresh fruits and vegetables right behind their house to use in cooking, which is very important for them to have a balanced diet."
In addition to the service projects, the students traveled with Marasco to the colonial town of Zacatecas, where they toured the historical center and an old silver mine. They made (and ate) flour tortillas, and watched dance exhibitions and live music at neighborhood activity centers. They also found time to relax in hammocks on the sunny roof of their youth hostel, which they enjoyed so much that they purchased their own hammocks at a public market to bring back to the U.S.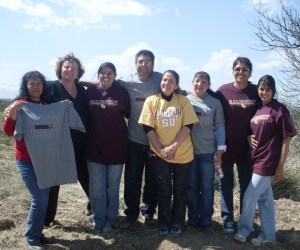 "Under some very difficult working conditions, the students continued to have good humor and respect for the community members we assisted," Marasco said. "They took advantage of every learning situation, bravely practiced their Spanish and were fearless at trying new foods. Not only was the project a life-changing experience for them, but their efforts changed the daily lives of the people we helped serve."
"[Global Service Project: Mexico] was not only educational, but we all had a terrific time," Koerner said. "We had a great group and were able to bring fun to every situation. There is no doubt I would do this again; it was the experience of a lifetime."
SU students have been engaged in service around the world for years through study abroad programs in such countries as Tanzania, where they teach HIV/AIDS prevention, and Ecuador, where they have helped at economically disadvantaged public schools. During SU's first alternative spring break programs, students headed to Costa Rica to assist foster children in Cartago in 2008 and help at a boys' orphanage in La Tesalia in 2009.
In the local community, the University recently established its Volunteer Center to connect students to hundreds of annual service opportunities with area organizations.
For more information, visit the Global Service Project: Mexico Web site at www.salisbury.edu/intled/studyabroad/spring/mexico or the SU Center for International Education Web site at www.salisbury.edu/intled.