Friday, September 14, 2012
SU President Honored at Baltimore Awards Ceremony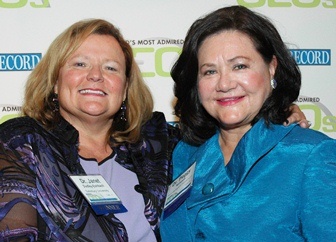 SALISBURY, MD---Salisbury University President Janet Dudley-Eshbach has been named one of Maryland's Most Admired CEOs for 2012.
Created this year by The Daily Record, a Baltimore-based business newspaper, this inaugural award recognizes 30 Maryland leaders who have excelled professionally and in serving their communities. The only university president honored, Dudley-Eshbach was spotlighted in the category of "Non-profits with More than $10 Million in Annual Revenue." Other winners included Dr. Peggy Naleppa, Peninsula Regional Medical Center President/CEO.
"The recipients demonstrate a strong commitment to excellence and have made Maryland a better place to live through their dedicated leadership and their ability to turn visions into reality," said Daily Record publisher Suzanne Fischer-Huettner.
"None of the many successes at Salisbury University occur by accident," said Deborah Abbott, senior vice president of the Bank of Delmarva and a longtime member of the SU Foundation board of directors. "Thanks to Dr. Janet's consummate leadership and her unrelenting pursuit of goals, the University is an economic, cultural and educational asset to this region."
Others at SU applaud her for "propelling the campus into a University known nationally, and, increasingly, internationally, as one of the best values in public institutions dedicated to undergraduate teaching and learning."
Winners were chosen based on their demonstration of strong leadership, integrity, values, vision, commitment to excellence, financial performance and ongoing commitment to their communities and diversity.
Upon her arrival in 2000, Dudley-Eshbach became the first woman to serve as SU's chief executive. Today, she is one of the longest serving presidents in the University System of Maryland.
During her tenure, SU has increased in size and reputation. With an enrollment of 8,600 and employing nearly 1,700 faculty and staff, the University has become an economic engine for the region, with an annual impact of $420 million, according to BEACON (Business, Economic And Community Outreach Network). In recent years, the campus has opened over $165 million in new facilities. The nationally recognized Teacher Education and Technology Center is a showcase building for education in the mid-Atlantic; Perdue Hall provides a state-of-the-art home for the Franklin P. Perdue School of Business; and Sea Gull Square, a public-private collaboration, offers retail shops serving the local neighborhood and housing for some 600 students. The new Richard A. Henson Medical Simulation Center also benefits area health care practitioners.
Leading the University in new directions, Dudley-Eshbach has expanded shared governance for which SU has become a model in the University System of Maryland; elevated and improved town-gown relations; and diligently worked to increase diversity among faculty, staff and students. Minority enrollment has more than doubled.
A Latin American scholar who earned her Ph.D. from El Colegio de México, Dudley-Eshbach is a champion of international study. She created SU's Center for International Education and an English Language Institute, and has joined students on spring break service trips abroad. Today students from 62 nations attend SU. Community service, locally and globally, has become a pillar of an SU education. She supported the opening of SU's Volunteer Center, which logged more than 25,000 hours in just two years.
Innovative academic offerings have remained a priority: during her tenure, nearly a third of SU's current majors and the campus' first doctorate, in nursing practice, have been developed by faculty.
Hard work and strategic thinking also helped the SU Foundation complete its "Taking Excellence to New Heights" Campaign earlier this year, raising nearly $40 million, some $15 million higher than its goal. Student scholarships and faculty development were campaign priorities. SU consistently has been ranked for excellence and value in such publications as U.S. News & World Report, Princeton Review and Kiplinger's Personal Finance.
On September 13, the Most Admired CEO recipients were honored at the Hyatt Regency Inner Harbor in Baltimore. They also were profiled in a special magazine included in the September 14 edition of The Daily Record. The newspaper has previously recognized Dudley-Eshbach as one of Maryland's Top 100 Women, inducting her into its Circle of Excellence.
For more information call 410-543-6030 or visit the SU Web site at www.salisbury.edu.