Friday, January 12, 2018
SU Presents 'Feathers of Fire: a Persian Epic' Wednesday, February 28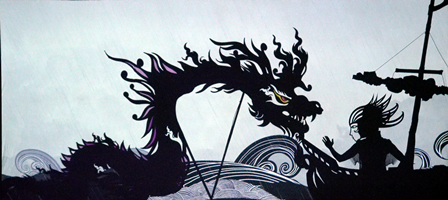 SALISBURY, MD---Shadow puppetry first gained popularity in seventh-century China. Salisbury University celebrates the ancient craft with the production Feathers of Fire: a Persian Epic 7 p.m. Wednesday, February 28, in Holloway Hall Auditorium.

Guggenheim Fellow Hamid Rahmanian brings the acclaimed original production to SU. The filmmaker and visual artist takes the audience on a journey to meet two star-crossed lovers from the 10th-century Persian epic Shahnameh (The Book of Kings).

Puppet master Larry Reed brings the story to life as costumes, masks, scenography and digital animation are combined for a "live animation" shadow-casting technique. The play features an original score by Loga Ramin Torkian and Azam Ali, who performed at SU last spring.

Sponsored by the Cultural Affairs Office, free tickets are available at the Guerrieri Student Union Information Desk beginning Monday, January 29, for SU students, faculty and staff; Friday, February 9 for the general community (limit two per person).

The performance is made possible through the ArtsCONNECT program of the Mid Atlantic Arts Foundation with support from the National Endowment for the Arts.

In conjunction with the play, SU Dining Services presents the dinner "An Evening in Persia" from 4:30-7:30 p.m. in the Commons. The menu includes Persian beef kabobs, jueh (chicken kabobs), fesenjan (pomegranate chicken), maple-roasted carrots with tahini pomegranate sauce, sabzi polo (rice with fava beans), caramel panna cotta and baklava. Cost is $13.50, $8.15 for children 6 and under.

For more information call 410-543-6271 or visit the SU website at www.salisbury.edu.