Monday, November 21, 2016
SU Police Department Earns CALEA Reaccreditation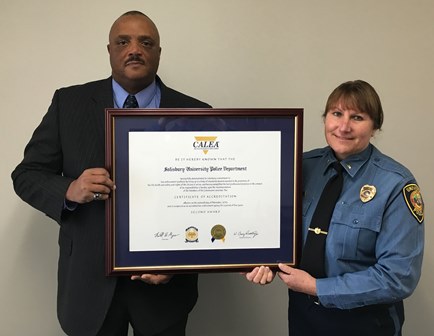 SALISBURY, MD---The Salisbury University Police Department recently earned reaccreditation from the International Commission on Accreditation for Law Enforcement Agencies, Inc. (CALEA).

With the designation, SU remains the only higher education institution on the Eastern Shore of Maryland with a CALEA-accredited police department. The department was first accredited in 2013.

"This audit was extremely thorough, from the initial onsite review to the final hearing," said SU Police Chief Edwin Lashley. "I am proud of this department. This proves that we once again have achieved the gold standard in law enforcement and reflects our commitment to the safety of the campus community. Special thanks to our leadership team, especially Lt. Sandra Bradley, who maintains the program in an exceptional way."

During the voluntary accreditation process, CALEA representatives evaluated the department's policies, procedures, management, operations and support services. They spoke with members of the department, SU and the greater community during a capstone visit in July.

The University System of Maryland (USM) Board of Regents set a mandate in 2010 for all police agencies on USM campuses to comply with CALEA standards. SU is one of six institutions to meet that goal so far.

Founded as a security patrol in 1970, the SU Police Department was certified in 1981, becoming fully functioning and recognized by the Annotated Code of Maryland in 1988. The department serves some 8,700 students, 1,800 faculty and staff, and thousands of visitors to campus each year. The SU Police have worked hard to foster close relationships with state, county and local law enforcement agencies.

For more information call 410-543-6030 or visit the SU website at www.salisbury.edu.