Friday, September 2, 2016
SU Pilots Bike Share Program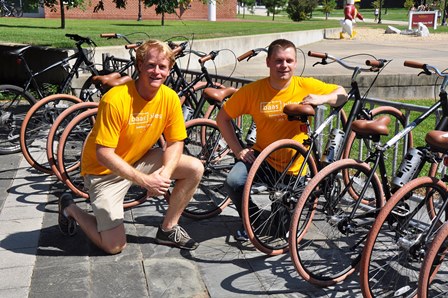 SALISBURY, MD---Salisbury University students can get around the area this semester courtesy of Katy Perry, Jay-Z and the Grateful Dead.

Baas bikes ("baas" is short for "bikes as a service") launched its first campus bike share service at SU during the first day of classes. Each bicycle in the 100-bike fleet is named after a popular singer or band "because everyone loves music," said company co-founder Rob McPherson.

Unlike traditional bike share services, which require the cycles to be rented from and returned to a fixed docking station, baas bikes can be picked up and dropped off anywhere within the SU geo-grid, which includes main and East campuses, as well as affiliated housing complexes such as University Park, Cedar Crossing, University Orchard and University Village apartments. Rental is open to students, faculty and staff, as well as the greater community.

To rent bikes, users must first download baas bikes' free app on a smartphone or other mobile device. The app will let them know which bicycles are closest (identified using the bikes' band names). Once reserved the user has 15 minutes to get to the bike, whose built-in chain is unlocked using Bluetooth technology. A quick adjustment of the seat (seats are locked sideways on bikes between rentals to help deter theft), and the rider is off.

Rentals are $1 an hour. There are no distance restrictions. When bicycles are returned to the SU geo-grid, however, they must be locked to a sanctioned bike rack — no trees, signs, etc.

According to Wayne Shelton, SU campus sustainability and public safety director, McPherson cold-called him last spring about the possibility of launching the service at Salisbury. The proposal followed a two-year plan to bring bike sharing to SU that was deferred when officials determined building specialized docking stations on campus and paying fees for the service made it too cost-prohibitive.

"It was one of those too-good-to-be-true moments," said Shelton.

McPherson was inspired to start the Washington, D.C.-based company following time spent living in Amsterdam, where bicycles provide a reliable source of transportation for many residents. He wanted to join them — but he had to buy his own bike to do so. A bike sharing program would have made more sense, he thought.

Others in the U.S. thought so, as well. However, McPherson said baas' approach is unique.

"We've seen a lot of bike shares in big cities with big, bulky bikes and docking stations that make them inconvenient to access," he said.

Baas began testing the concept of a rent-anywhere bike last year with brief tests at the University of Maryland, College Park, and other campuses. He and his partners chose SU as the company's first official launch site for very specific reasons.

"Salisbury has a great commitment to sustainability," he said. "The area is flat, and the campus is growing. We thought it would be the perfect place to start."

Following the Salisbury rollout, the business has plans for a second launch this fall at James Madison University in Virginia.

Shelton said he expects the service to provide more options for SU students and their parents. SU Police auctions off 50-100 bikes left on campus at the end of each academic year, he said, noting that students purchase bicycles for use during the school year, but do not take them when they leave for the summer or graduate. Baas could save them money.

The program also should provide more mobility for students who may not have vehicles on campus, Shelton said. And for those who do, including faculty and staff, a $1 bike rental for a short trip could mean the difference between keeping or losing a prized parking spot on campus, he added.

The two-day SU launch event, which included free cornhole and T-shirt giveaways, attracted plenty of attention, with more than 500 students inquiring about the service. Overall, more than 200 have signed up for the free app so far.

"The rollout for this has been tremendous," Shelton said. "Students are excited, and faculty are thrilled."

The program will be offered as a one-year pilot at SU, after which University officials will determine whether to continue the service on campus.

For more information call 410-543-6030 or visit the SU website at www.salisbury.edu.