Friday, July 9, 2010
SU Partners With Anqing Teachers College of China
SALISBURY, MD---East meets Eastern Shore—and the result is a new opportunity for students and faculty.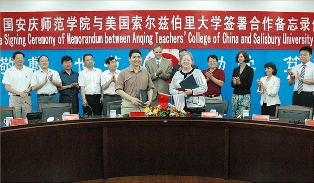 Dr. Diane Allen, Salisbury University provost and senior vice president of academic affairs, recently led a delegation to China, where she joined Anqing Teachers College Vice President Zhang Qun in signing a memorandum of agreement to form a sister institution partnership.
This agreement will allow the two campuses to form an exchange program for students and faculty, broadening opportunities for both communities. SU hosts its first two students from Anqing this fall, while two Salisbury students study abroad at the university in China.
Joining Allen from SU were Dr. Ellen Neufeldt, vice president of student affairs; Jane Dané, dean of enrollment management; Dr. Maarten Pereboom, dean of the Charles R. and Martha N. Fulton School of Liberal Arts; Dr. Brian Stiegler, Center for International Education director; Dr. Sam Song, English Language Institute director; and Dr. Linda Dwyer of the History Department.
Anqing Teachers College chronicled the SU delegation's visit on its Web site. To view the article, visit http://210.45.168.35:8080/waishi/news-53.htm.
For more information call 410-543-6030 or visit the SU Web site at www.salisbury.edu.